Read on, and you'll get instant access to my free, printable list of all the best questions to ask on a college visit.
A college visit can occur at any time during middle school or high school. The most common time for students and parents to do a college visit, though, is March of 10th grade through June of 11th grade (when possible, on days when the high school student doesn't have school, but the college is in session).
Here are my 9 best strategies for putting together effective, stress-free college visits.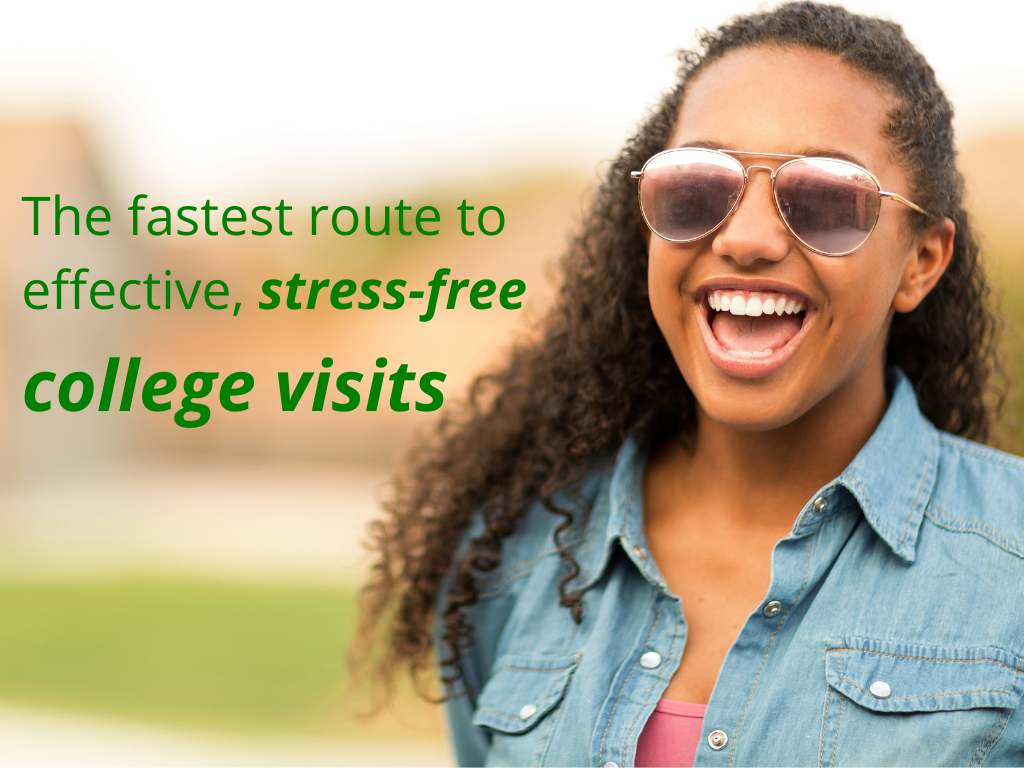 1. Got a 10th or 11th grader? Choose your college visit days very early—by doing this.
Call your child's high school office and ask, "Where can I see a list of all the weekdays my child will have off of school this year?"
This list you'll get will include winter and spring breaks, of course—but it'll also include other days off, including teacher in-service days when students aren't required to be in class.
Print out a paper calendar—for free—using a site such as calendarlabs.com. (For this project, print out just the months of March of 10th grade through June of 11th grade—your prime college visit months.)
Using a bright highlighter, color in all the weekdays when your child doesn't have school, but a college might well be in session.
This allows you to see all your potential college visit days months in advance.
2. Be careful as you schedule the first college visit.
Your child may fall instantly in love with this first college, like a little duckling coming out of its shell and imprinting on its mother. Be sure you've read chapters 13 and 14 of my book before you schedule this visit, so you can feel sure that this college will be affordable for your family and an excellent fit for prep for your child's potential future career.
3. Don't limit your college visits to just state universities, thinking that'll be the fastest route to saving money.
Read my free article That Local State University May NOT Be Your Bargain Option. Share this article with other adults in your family. Then choose and visit private universities as well—even if they look more expensive at first glance. (Chapter 14 of my book will help you choose private universities that may end up being extraordinary bargain options.)
4. Try to schedule college visits when the weather in the area will be at its very worst.
If your daughter's going to have to bundle up and brave 30-below-zero windchills to get to class most days, she might as well find that out now.
5. If you'll be traveling to visit a college, try to visit two or three different colleges on the same trip.
This will be time-efficient, plus it'll save money.
6. If it's convenient, bring friends along.
Why do all this in isolation? Tell church and school friends that you've got a college visit planned and invite them along. Fill the family minivan with students and parents. It'll be more fun, and—if you split expenses—the trip will end up being cheaper.
Plus, your friends will notice things about the campus that you won't see. This will make the minivan conversation on the way home fun and interesting.
7. Let the college know the date of your college visit ahead of time.
The college admissions office will bend over backward to make sure you get the most out of this college visit.
They'll welcome you with open arms, perhaps even providing free overnight accommodations in dorm rooms with current students, free college cafeteria meals, informative college visit campus tours, appointments with potential sports coaches, access to classes in the student's area of interest, opportunity to participate in a chapel service, and free tickets to fun evening events.
The admissions office can do a lot for you on a college visit, so be sure to let them know in advance that you're coming.
8. Include a visit to the career center on every college visit.
Career Center–University of Cincinnati
If your son doesn't become acquainted with the valuable services offered in the career center before he enrolls, he may never visit it until he's a senior, trying to pull together a resume with nothing to put on it.
This would be a tremendous loss.
Have your son walk into the career center on college visit day and say, "Can you show us the resources you use to help sophomores, juniors, and seniors find paid internships in their major fields? I'm a prospective student, and if I attend here I'll want to do three internships before I graduate."
9. Empower your teen to ask all the best, most intelligent questions on every college visit.
Download and print my free resource THE EFFECTIVE COLLEGE VISIT: Questions to Get Answered Before the Day is Over. Then, share this article with other parents and students you care about.
Your son will make the best impression on admissions office staff if he introduces his parents, and then takes charge of asking carefully constructed, intelligent questions.
Remember, a good impression made on a college visit can lead to more merit aid that will help your child pay for college later, so this is critically important.
Choose your next college visit most strategically by reading chapters 13–15 of this book before you go:
This is a reference book, so nobody reads the whole thing cover to cover. You can get 10-minute, fast-paced video instruction on how to use this book most efficiently here.
You can see more than 150 reviews of this book on Amazon at:
You can see why financial advising professionals love LAUNCH, here.
You can see the top 9 questions parents are asking me about LAUNCH, here.
Read just one chapter of LAUNCH every 1–3 months while your child's in middle school and high school, and you'll know every viable strategy for debt-free college at exactly the right time to implement it. 
And if your child's already well past middle school? That's OK; you can run to catch up. But the process of getting your kids through college debt-free goes more smoothly the earlier you start it—especially if you're not planning to save up any money to pay for college.
Take a step on this right now. Get regular, inspiring help from me—every Monday morning.
Subscribe to my free weekly email newsletter here.
Do you have specific questions for me about debt-free college and career for your kids?
It's my 
members
 that get most direct access to me. Doors to my membership open each year for just 5 days in March, and 5 days in September. It costs just pennies per day, but space is limited. 
Join the Waiting List here.
What about you? What ideas do you have for effective, stress-free college visits?
Comment below or LIKE Jeannie Burlowski Author on Facebook, find this post on that page, and let's talk about it there.
Who is Jeannie Burlowski?
Jeannie is a full-time academic strategist, podcast host, and sought-after speaker for students ages 12–26, their parents, and the professionals who serve them. Her writing, speaking, and podcasting help parents set their kids up to graduate college debt-free and move directly into careers they excel at and love. Her work has been featured in publications such as The Huffington Post, USA Today, Parents Magazine, and US News and World Report, and on CBS News.
Jeannie also helps students apply to law, medical, business, and grad school at her website GetIntoMedSchool.com. You can follow her on Twitter @JBurlowski.