Teen anxiety is at an all-time high. How can parents help?
Or at least quit ratcheting up teen anxiety and making it worse?
Some of the root causes of teen anxiety are things parents don't have much control over—such as our culture's senseless obsession with elite education, or social media pointing our moral compass in a dangerous direction.
Could just confiscating the teen's phone be an answer?
No—that won't work. Today's tech-savvy teens can have the phone you took away replaced by a Walmart burner phone in under an hour.
How can wise parents relieve teen anxiety in a culture where doctors say that before long, 1 in 3 teens will have a diagnosable anxiety disorder?
1. Let your teen struggle with hard things.
It sounds counterintuitive—but instead of swooping in like a helicopter to save the day when life gets tough for your middle schooler, high schooler, or college student, you could say something like, "Wow. That's rough. What are you going to do now?"
Or, "Oh, no. That's so incredibly frustrating. I wonder what resources you could tap into to help with that?"
Then stand back for as long as it takes to see the creative solutions your child comes up with.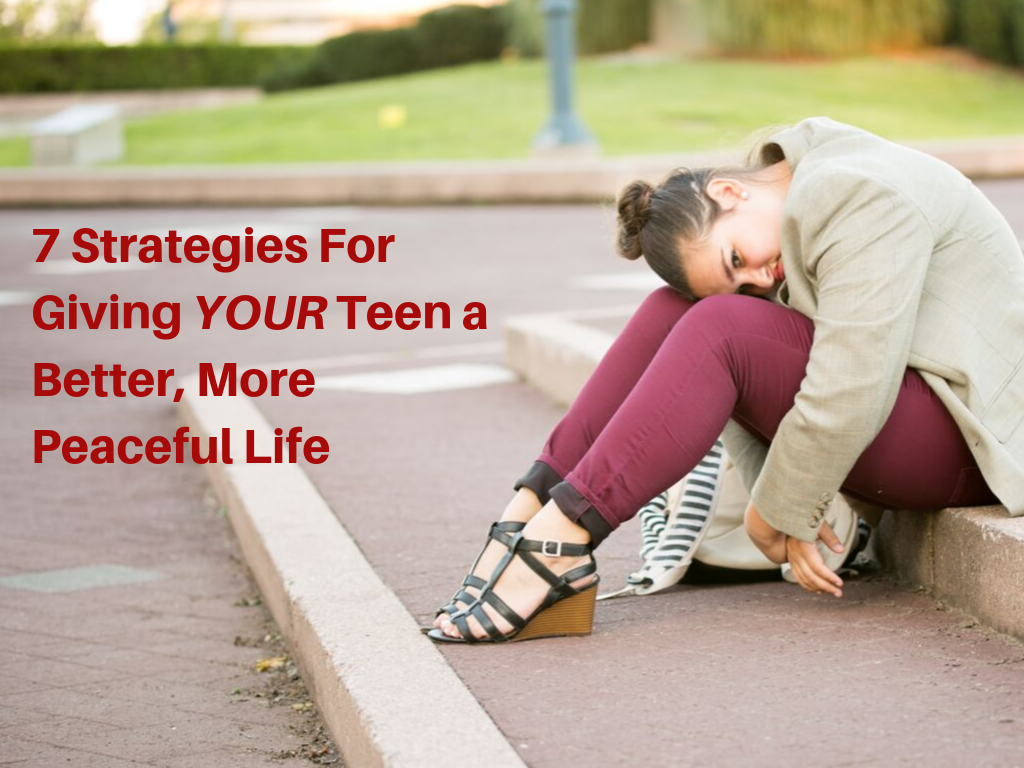 2. Resist the urge to make a smooth, straight road for your kids.
Instead—joy and revel in the reality that every bump and pothole they navigate on their own reduces teen anxiety by building confidence that they can handle adversity on their own.
It's fascinating to me that one of the most effective medical treatments for anxiety is cognitive‐behavioral therapy (CBT). CBT involves—among other things—increased exposure to feared objects, activities, and situations.
You can accomplish this at home.
Give your teen the space to confront and conquer what she's nervous about, and you'll take a giant step toward softening and reducing teen anxiety, without making even one doctor appointment.
3. Let go of the leash of constant texting.
Your son or daughter does not need to hear from you by text every hour, or even every day.
Resist the urge to text back within seconds.
Let the texting thread go quiet.
Provide room to breathe. Allow space to be separate. Give your teen room to think on his own without a parent constantly chattering in the background.
This will be one of the best ways to allow your child to hear and trust his own voice.
The result? Far, far less teen anxiety.
4. Beware your child's university parent Facebook page.
The university parent Facebook page is a great place to learn basic information, but it will become a destructive, anxiety-inducing force if you indulge in long complaining sessions with other parents over food quality and cleanliness of bathrooms—and then share your bitter displeasure with your son or daughter.
Your college student already feels anxious enough that her college is not as nice or as much fun as other kids' colleges—don't fuel that fire.
5. Hand problems back to your teen to solve on his own.
Steel yourself against the overwhelming urge to hop onto the school or college website and figure everything out for him.
Let him do it himself—or you inadvertently send the message that you think he's a weakling who's too incompetent to do his own internet research. This can lead to ongoing, paralyzing teen anxiety.
Instead of doing the work for him, express confidence that he has the brains and the ability to access resources and figure his own way out of the problems he encounters.
6. Step in with moderate help only when your teen or college student is so stuck that she can't move forward on her own.
Has she accessed all the available help on her own and still can't move forward? Is she somehow being prevented from accessing all the resources she has coming to her?
Offer suggestions and ideas and additional resources to tap into—while still staunchly resisting the urge to helicopter, control, and rescue.
Watch her confidence shoot up like a bamboo tree when she looks back on the toughest moments of her life and says, "I found my way out of that. I'm confident I can tackle whatever life throws at me!"
7. Pat yourself on the back—you're building professional competence and long-term employability into this child.
When your son or daughter goes to apply for an internship, or gets hired for a great job, her resilience and ability to push through difficulty will make her a prized contributor in her workplace.
I promise you, this trait will be far more important to future employers than will a fancy college name on a resume.
Need help and support becoming this kind of parent?
I highly recommend the book I've come back to over and over again as I've navigated my own parenting struggles: Parenting Teens with Love and Logic.
My suggestion? Don't even try parenting a teen in this day and age without this book. The Love and Logic style of parenting builds into kids, teens, and college students the sense of confidence and responsibility that empowers them to say, "I'm ready to manage whatever life throws at me. Bring it on."
Do you have a 20-something son or daughter? 
Read my emphatic post recommending the must-read Meg Jay book The Defining Decade: Why Your Twenties Matter and How to Make the Most of Them Now. You'll find it here.
Are you parenting a teen with disabilities?
See the article I've written about when to call the college's disability services office here.
Many thanks!
Many thanks to Virginia Tech college advisor Priscilla Beth Baker for her inspiration in the writing of this article. Priscilla's rant about the helicopter parenting of college students went viral on Facebook, and afterward was polished into the article you see here.
Help us spread the word about this!
Copy this entire article and paste it right into your school, business, or homeschool newsletter. Put a link to it in your Facebook group! Just include the words "By Jeannie Burlowski."
And if you've found valuable info in this article, please help by tweeting it out to the people who follow you.
Remember, helping your child to be confident and responsible is only a small part of the picture when it comes to getting your kid through college debt-free.
For clear, step-by-step help with the whole debt-free college process from beginning to end, it takes only 7 hours to read my book:
It's a reference book, so nobody reads the whole thing cover to cover. Pick out what you need to read in it using the fast-paced, 10-minute video instructions here.
You can see more than 100 reviews of it on Amazon at: bit.ly/burlowski
(Tell your friends.)
You can see why financial planners and wealth managers love LAUNCH, here.
You can see the top 9 questions parents are asking me about LAUNCH, here.
Read just one chapter of LAUNCH every 1–3 months while your child's in middle school and high school, and you'll know every viable strategy for debt-free college at exactly the right time to implement it.
And if your child's already well past middle school? That's OK; you can run to catch up. But the process of getting your kids through college debt-free goes more smoothly the earlier you start it—especially if you're not planning to save up any money to pay for college.
Take a step on this right now. Get regular, inspiring help from me—every Monday morning.
Subscribe to my free weekly email newsletter here.
Do you have specific questions for me about debt-free college and career for your kids?
It's my members that get most direct access to me. Doors to my membership open each year for just 5 days in March, and 5 days in September. It costs just pennies per day, but space is limited. Join the Waiting List here.
Did you find this article through a Facebook post?
Please click the LIKE or SHARE button on that Facebook post right now. You'll be helping me get this info out to families who might never otherwise find out about it.
What about you? What strategies have you found for raising teens who feel confident, responsible, and capable of leading peaceful lives?
Comment below or LIKE Jeannie Burlowski Author on Facebook, find this post on that page, and let's talk about it there.
Who is Jeannie Burlowski?
Jeannie is a full-time academic strategist, podcast host, and sought-after speaker for students ages 12–26 and their parents and grandparents. Her writing, speaking, and podcasting help parents set their kids up to graduate college debt-free and move directly into careers they excel at and love. Her work has been featured in publications such as The Huffington Post, USA Today, Parents Magazine, and US News and World Report, and on CBS News.
Jeannie also helps students apply to law, medical, business, and grad school at her website GetIntoMedSchool.com. You can follow her on Twitter @JBurlowski.