This month I'm making applying for scholarships easier than ever.
Join me for a free webinar designed to whet your kid's appetite for applying for scholarships.
In just one hour, you and your kids will hear me teach a short-cut, two-step strategy that helps students write one scholarship application essay and use it over and over again.
(In addition, you'll learn a super clever way students can stand out as scholarship superstars—even if they have lower grades and test scores.)
This free webinar will only be presented on Saturday, July 25th, 2020.
It will not be recorded or replayed.
Remember, kids ages 12–26 and older can all apply for scholarships. Share this article with friends all across the U.S.—so they can attend with you!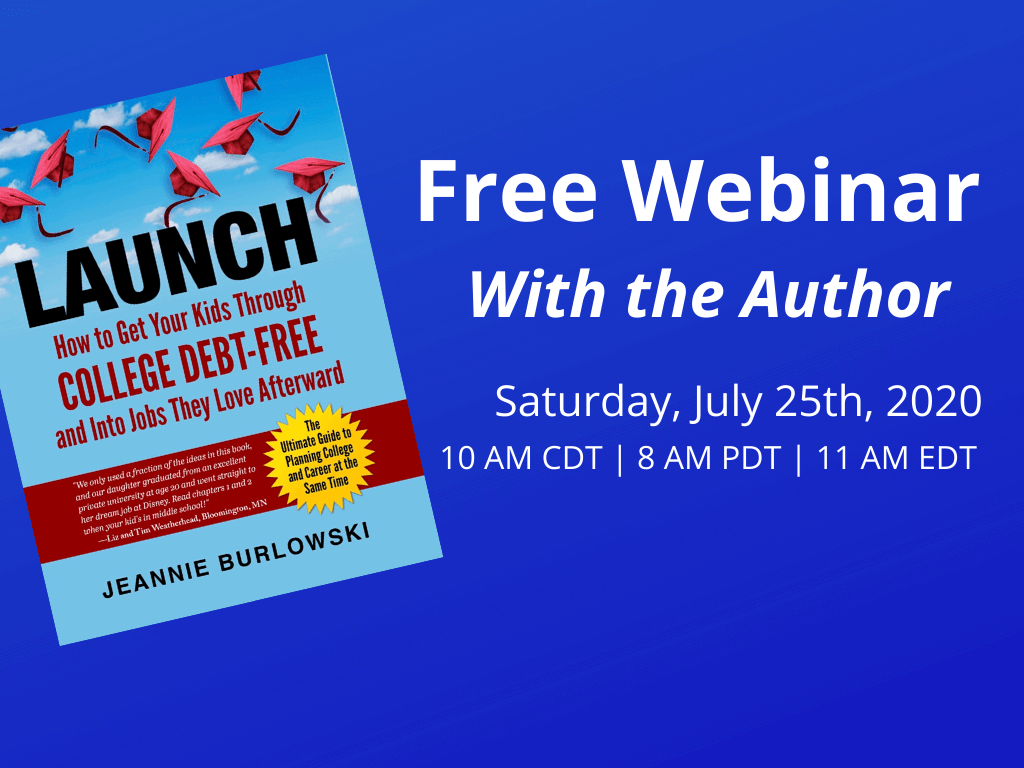 After the webinar—use these 3 great resources to increase your kids' scholarship chances:
1. Skim this article—it points you to 1.5 million scholarships to apply for.
2. Skim this article as well—it gives you a genius way to motivate your kids to want to fill out scholarship applications.
3. Skim over this very popular article on how students can rake in college scholarships despite lower grades and test scores.
It's encouraging!
For more inspiration on this, read two articles I've written on applying for scholarships while in college and while in grad school.
Help us spread the word about making applying for scholarships easier!
Copy this entire article and paste it right into your school, business, or homeschool newsletter. Put a link to it in your Facebook group! Just include the words "By Jeannie Burlowski."
And if you've found valuable info in this article about applying for scholarships, please help by tweeting it out to the people who follow you:
Be sure you get invited to all three of my free webinars.
I'm currently doing three webinars, on three different topics. Subscribe to my free weekly email newsletter here—and you'll get invited to other helpful webinars I'll be teaching on July 21st, July 29th, and August 6th, 2020.
These educational webinars are provided to the public at no cost thanks to the generosity of Thrivent Financial. Nothing is sold in these webinars.
Hi, I'm Jeannie Burlowski.
Most of my writing and speaking is focused on getting kids through college debt-free without scholarships.
The main way I do that is through the book I wrote:
You can get 10-minute, fast-paced video instruction on how to use this book most efficiently at bit.ly/easylaunchinstructions.
You can see more than 90 reviews of it on Amazon at:
You can see why financial advising professionals love LAUNCH, here.
You can see the top 9 questions parents are asking me about LAUNCH, here.
Read just one chapter of LAUNCH every 1–3 months while your child's in middle school and high school, and you'll know every viable strategy for debt-free college at exactly the right time to implement it.
And if your child's already well past middle school? That's OK; you can run to catch up. But the process of getting your kids through college debt-free goes more smoothly the earlier you start it—especially if you're not planning to save up any money to pay for college.
Do you have specific questions for me about debt-free college and career for your kids?
It's my members that get most direct access to me. Doors to my membership open each year for just 5 days in March, and 5 days in September. Space is limited. Join the Waiting List here.
Did you find this article through a Facebook post?
Please click the LIKE or SHARE button on that Facebook post right now. You'll be helping me get this info out to families who might never otherwise find out about it.
What about you? What ideas do you have for raking in more college scholarships during this time?
Comment below or LIKE Jeannie Burlowski Author on Facebook, find this post on that page, and let's talk about it there.
Who is Jeannie Burlowski?
Jeannie is a full-time academic strategist, podcast host, and sought-after speaker for students ages 12–26 and their parents and grandparents. Her writing, speaking, and podcasting help parents set their kids up to graduate college debt-free and move directly into careers they excel at and love. Her work has been featured in publications such as The Huffington Post, USA Today, NerdWallet, and US News and World Report, and on CBS News.
Jeannie also helps students apply to law, medical, business, and grad school at her website GetIntoMedSchool.com. You can follow her on Twitter @JBurlowski.