Join me live, online, on Saturday May 9th, 2020 for fresh inspiration on applying for scholarships.
Bring the kids (ages 12–26), and invite friends and family all over the U.S. to join you.
Easiest Way to Win College Scholarships—Starting in 8th Grade
Free Webinar
Saturday, May 9th, 2020
8:00 am PDT
10:00 am CDT
11:00 am EDT
This webinar is available at this specific time only, and will not be recorded or replayed. Registration is required. Register here.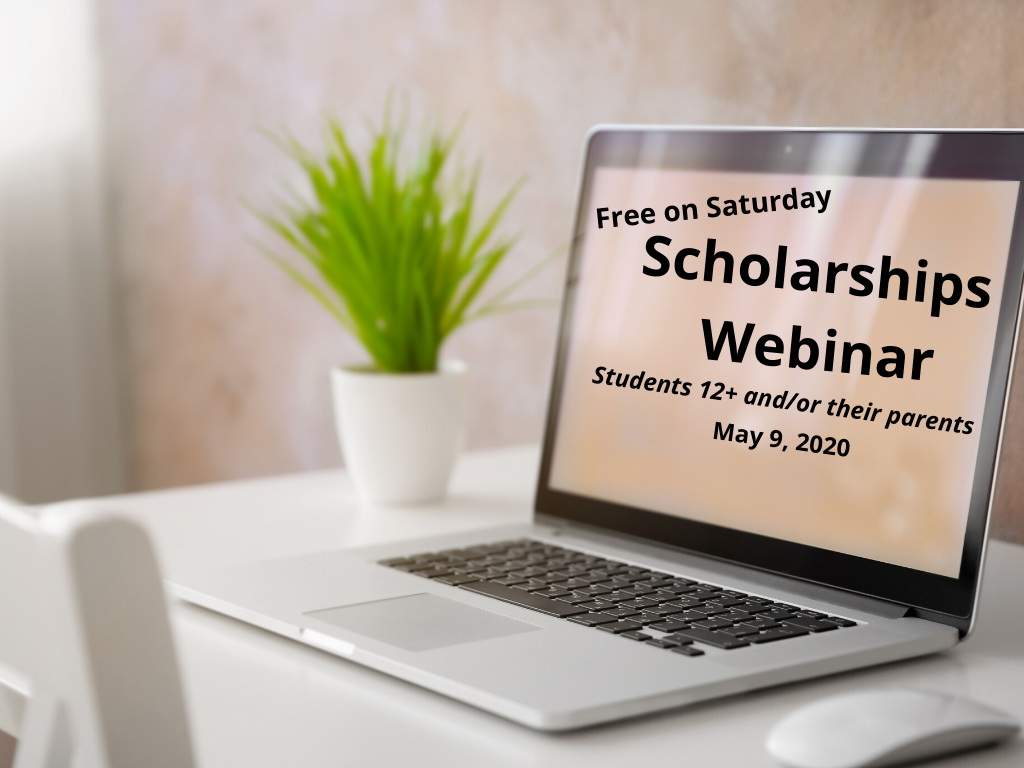 In less than one hour, I'll be covering:
1. How to motivate students ages 12–26 to want to fill out scholarship applications. (For some of you, this one point alone will be worth thousands of dollars to you.)
2. The one thing students can do to be top contenders for college scholarships, even if they have lower grades and test scores.
3. A very brief thumbnail tutorial on how to write one scholarship application essay and use it over and over again. (This will be a brief "pencil sketch" of two of the points I cover in my full 3-hour scholarship application essays class—which is described here.)
Pay the kids to attend this webinar if necessary!
Registration for this webinar is required.
This webinar is brought to you courtesy of Thrivent Financial.
Connect with a caring Thrivent financial professional at Thrivent.com.
Wondering where to find scholarships to apply for?
Take two minutes and skim this article: Applying for Scholarships During the Pandemic.
Help us spread the word about this!
Copy this entire article and paste it right into your school, business, or nonprofit newsletter. Put a link to it in your Facebook group! Just include the words "By Jeannie Burlowski."
And if you've found valuable info in this article, please help by tweeting it out to the people who follow you.
For clear, step-by-step help with the whole debt-free college process from beginning to end, do this.
Get this book, and pick out what you need to read in it using the fast-paced, 10-minute video instructions here.
You can see more than 90 reviews of this book on Amazon by going to:
(Tell your friends.)
You can see why financial planners and wealth managers love LAUNCH, here.
You can see the top 9 questions parents are asking me about LAUNCH, here.
Read just one chapter of LAUNCH every 1–3 months while your child's in middle school and high school, and you'll know every viable strategy for debt-free college at exactly the right time to implement it.
And if your child's already well past middle school? That's OK; you can run to catch up. But the process of getting your kids through college debt-free goes more smoothly the earlier you start it—especially if you're not planning to save up any money to pay for college.
Do you have specific questions for me about debt-free college and career for your kids?
It's my members that get most direct access to me. Doors to my membership open each year for just 5 days in March, and 5 days in September. Space is limited. Join the Waiting List here.
Did you find this article through a Facebook post?
Please click the LIKE or SHARE button on that Facebook post right now. You'll be helping me get this info out to families who might never otherwise find out about it.
What about you? What strategies have you found for inspiring students ages 12–26 to apply for scholarships?
Comment below or LIKE Jeannie Burlowski Author on Facebook, find this post on that page, and let's talk about it there.
Who is Jeannie Burlowski?
Jeannie is a full-time academic strategist, podcast host, and sought-after speaker for students ages 12–26 and their parents and grandparents. Her writing, speaking, and podcasting help parents set their kids up to graduate college debt-free and move directly into careers they excel at and love. Her work has been featured in publications such as The Huffington Post, USA Today, NerdWallet, and US News and World Report, and on CBS News.
Jeannie also helps students apply to law, medical, business, and grad school at her website GetIntoMedSchool.com. You can follow her on Twitter @JBurlowski.