In late August of 2019, I made an exciting announcement to the parents who follow me. Low-cost, personal debt-free college planning help from me—coming soon!
At that time I wrote to the parents who follow me: "I'm going to be bringing together a tribe—a group of parents from all across the United States—who'll get ongoing, personal, step-by-step help from me with implementing debt-free college strategies."
A fantastic opportunity for parents and financial advisors who don't want to do important college planning in isolation.
Our plans for this have changed just a bit.
This "tribe" will launch not in fall 2019, but in March 2020.
Subscribe to my free weekly email newsletter, and when the launch happens you'll be allowed to join this tribe as a founding member at the lowest possible price.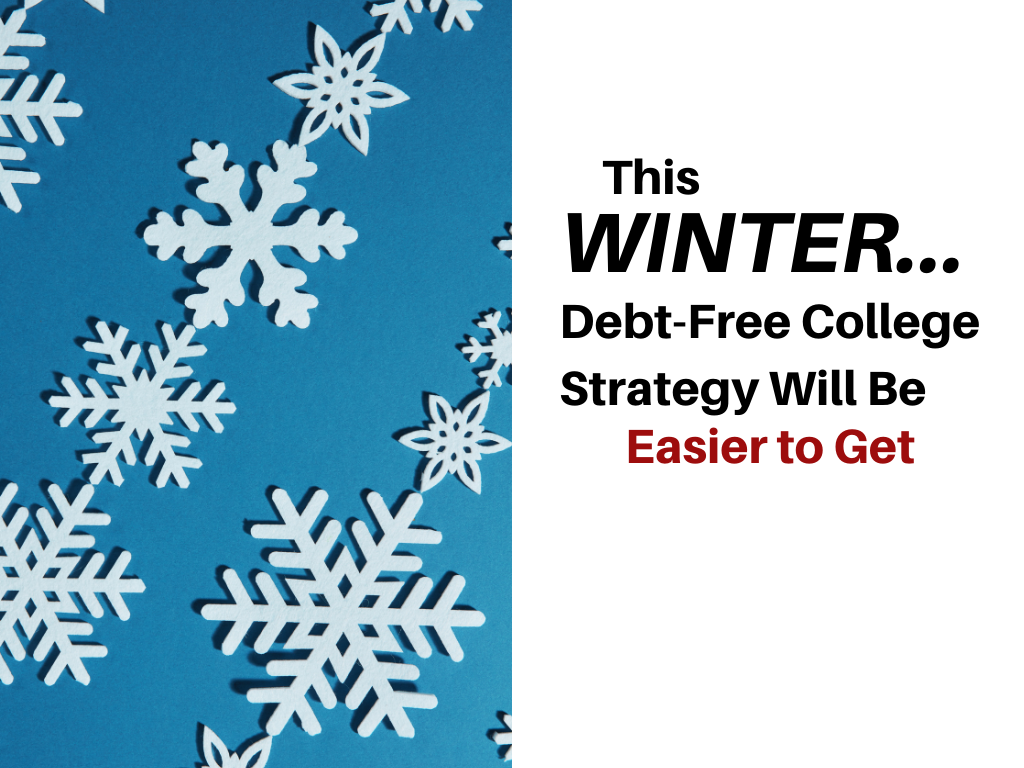 "Why are we waiting until March 2020?"
I was surprised to discover that launching a tribe like the one I'm describing would require me to completely revamp my website. Quite a feat, considering that my current website has over 200 articles that parents all over the world access every day.
This "revamping my website" step required me to find a web designer experienced in tribe technology—and the first two designers I hired didn't turn out to have the necessary experience.
Essentially—I've had construction delays.
Mark your calendar for March of 2020!
Once you join, you'll attend one online group meeting with me any month you have a question for me.
Plus you'll get my two most popular half-day seminars for your kids—delivered online—at no additional charge.
Whether you're currently parenting middle schoolers, high schoolers, or college students—you know one thing for sure. You'd love to get those kids through college debt-free, and into jobs they love afterward.
But here's your struggle with debt-free college.
The parenting whirlwind has you gasping for air every day. There's so much to do to just get through this day and this week.
You wonder—how will you find the time and energy to create strategy for something that's not coming down the pike for years?
What you need is personal, bit-by-bit guidance that doesn't take a lot of your time.
When this tribe launches, it will allow you (and all the other parents who follow me) to take small baby steps each month—with a kind, supportive expert to guide you—so that over months and years you can make massive progress toward debt-free college and career for your kids.
This will be extraordinarily helpful.
If you've ever read a paragraph in my book and thought, "That's a fantastic idea! But how do I make that happen in my specific situation, with the particular obstacle I face?" then this tribe will be for you.
Here's the first step we'll take together.
The first step that my tribe will take together will be completing an exciting three-session online course where I'll teach the top 12 strategies parents need for getting kids ages 12–18 through college debt-free and into jobs they love afterward.
This will be perfect for your friends and family who'd rather not read a thick book and follow the directions in it.
(This tribe will also attract college admissions consultants, strengths-based coaches, financial planners, and wealth managers who want to make "debt-free college and career" a part of the client advising they do. Their presence will be a great asset to us!)
Watch my upcoming free weekly email newsletters for details. Enrollment in this tribe will only open twice a year, and you won't want to miss it.
If you know other parents who follow me, let them know!
Getting your kids through college debt-free is an exciting parental achievement.
It's something you'll hold on to with gratitude long after the parenting whirlwind you're in now is just a distant memory.
And best of all—you can achieve debt-free college and career for your kids regardless of your income level, regardless of whether your kids are getting any scholarships or not.
I'm excited about being on this very important journey with you!
Help us spread the word about this.
Copy this entire article and paste it right into your school, business, or homeschool newsletter. Put a link to it in your Facebook group! Just include the words "By Jeannie Burlowski."
Right now, this week, you can get a jumpstart on getting your kids through college debt-free. 
For clear, step-by-step written help with the whole debt-free college process, it takes only 7 hours to read my book:
You can "Look Inside" the book on Amazon for free by going to:
(Tell your friends.)
You can see why financial planners and wealth managers love LAUNCH, here.
You can see the top 9 questions parents are asking me about LAUNCH, here.
Read just one chapter of LAUNCH every 1–3 months while your child's in middle school and high school, and you'll know every viable strategy for debt-free college at exactly the right time to implement it.
And if your child's already well past middle school? That's OK; you can run to catch up. But the process of getting your kids through college debt-free goes more smoothly the earlier you start it—especially if you're not planning to save up any money to pay for college.
What about you? What strategies have you found for getting your kids through college debt-free, even if they aren't getting scholarships?
Comment below or LIKE Jeannie Burlowski Author on Facebook, find this post on that page, and let's talk about it there.
Who is Jeannie Burlowski?
Jeannie is a full-time academic strategist, author, speaker, and podcast host. Her writing, speaking, and podcasting help parents set their kids up to graduate college debt-free and move directly into careers they excel at and love. Her work has been featured in publications such as The Huffington Post, USA Today, NerdWallet, and US News and World Report, and on CBS News.
Jeannie also helps students apply to law, medical, business, and grad school at her website GetIntoMedSchool.com. You can follow her on Twitter @JBurlowski.