What if there were an organization focused intently on improving the lives of college students all across the U.S.? There is, and it's called Greek University.
What is Greek University—and how can it help my kid?
Greek University provides on-campus (and conference-based) educational programming that strengthens fraternities and sororities so they can do maximum amounts of good on their local campuses and in their communities.
You can see the many ways Greek University strengthens college campuses here.
See my interview on the Greek University podcast below.
This was one of my favorite interviews ever. Michael Ayalon, my interviewer, was funny and inspiring, and pulled helpful details out of me that few interviewers ever do.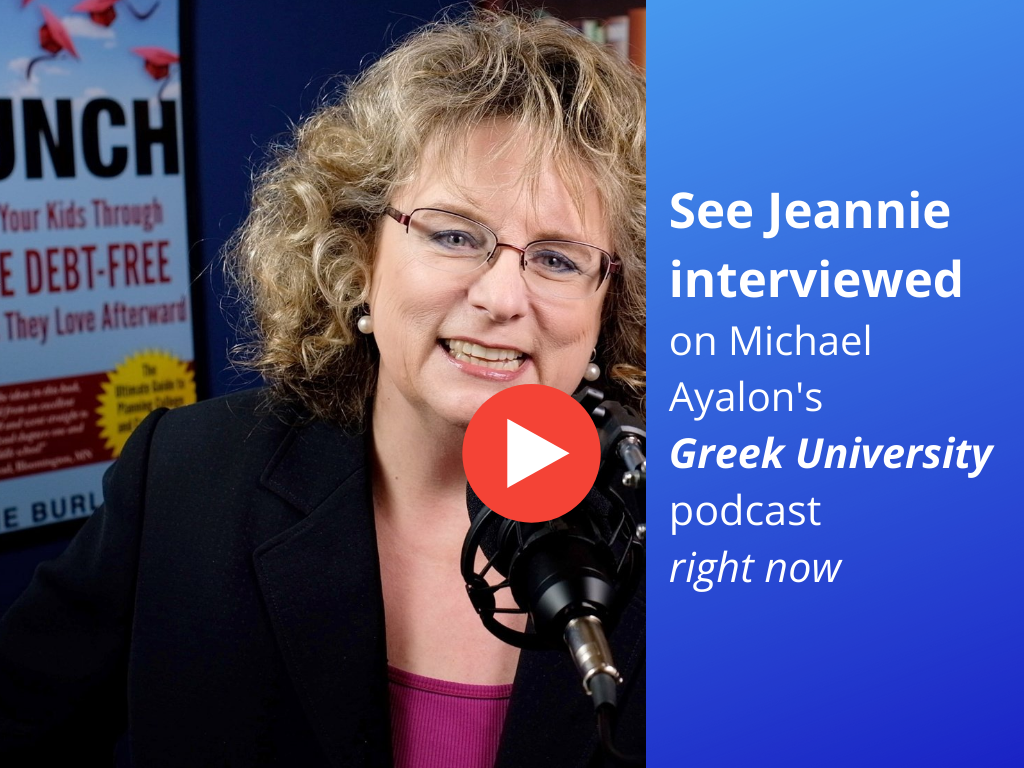 Listen to this Greek U. podcast episode for just 9 minutes, and get fresh inspiration about:
1. Helping your son or daughter rocket straight into law, medical, business, or grad school—if that ever becomes a goal
2. Why attending a fancy brand-name college isn't required to have extraordinary life success
3. Multiple ways to get future and current college students through college debt-free—WITHOUT SCHOLARSHIPS
Listen to this Greek U. podcast episode while you're getting ready in the morning or emptying the dishwasher!
You'll find clear help with finding high-quality, best-financial-fit colleges to apply to in Chapter 14 of:

It's a reference book, so nobody reads the whole thing cover to cover. Pick out what you need to read in it using the fast-paced, 10-minute video instructions here.
You can see more than 170 reviews of this book on Amazon by going to:
(Tell your friends.)
You can see why financial advising professionals love LAUNCH, here.
You can see the top 9 questions parents are asking me about LAUNCH, here.
Read just one chapter of LAUNCH every 1–3 months while your child's in middle school and high school, and you'll know every viable strategy for debt-free college at exactly the right time to implement it.
And if your child's already well past middle school? That's OK; you can run to catch up. But the process of getting your kids through college debt-free goes more smoothly the earlier you start it—especially if you're not planning to save up any money to pay for college.
Take a step on this right now. Get regular, inspiring help from me—every Monday morning.
Subscribe to my free weekly email newsletter here.
Do you have specific questions for me about debt-free college and career for your kids?
It's my members that get most direct access to me. Doors to my membership open each year for just 5 days in March, and 5 days in September. It costs just pennies per day, but space is limited. Join the Waiting List here.
Are you a parent of a current or future college student?
What part of this interview landed on you as most useful and inspiring? Comment below, or LIKE Jeannie Burlowski Author on Facebook and comment on this post there.
Who is Michael Ayalon?
Michael is CEO of Greek University and host of the Fraternity Foodie podcast. He leads a group of 18 Greek University speakers who help fraternities, sororities, athletes, and college students persist in light of the challenges they face as they lead the way to making their campuses safer and the world a better place. Michael is a highly sought-after speaker who has headlined keynote presentations on over 200 college campuses in 35 states, and he is the author of the book From Letters to Leaders: Creating Impact on Your College Campus and Beyond. You can view a list of Greek University speakers and topics here.
Who is Jeannie Burlowski?
Jeannie is a full-time academic strategist, podcast host, and sought-after speaker for students ages 12–26, their parents, and the professionals who serve them. Her writing, speaking, and podcasting help parents set their kids up to graduate college debt-free, ready to move directly into careers they excel at and love. Her work has been featured in publications such as The Huffington Post, USA Today, Parents Magazine, and US News and World Report, and on CBS News.
Jeannie also helps students apply to law, medical, business, and grad school at her website GetIntoMedSchool.com. You can follow her on Twitter @JBurlowski.