It was 8:35 am on a Saturday, and I was standing at a whiteboard in a large classroom—drawing diagrams I'd need for the class I was about to teach. From behind me I heard a young male voice.
"Hi, I'm early. I wanted to say hi to you."
I turned to see a high school boy who looked vaguely familiar.
"I came early because I wanted to tell you—" he said, looking over at my whiteboard, "I took this class from you before. When I was 12. My mom made me do it."
We both laughed. But then he grew serious.
"I took this Strategic College Student class when I was 12, and then three years later I was in a bad car accident. I mean—it was bad. I hit my head on pavement.
I wasn't the same after that. I couldn't think the same. And I used what you taught me in this Strategic College Student class to get myself back.
Now I'm the captain of the debate team at a large high school, and I'm headed to Yale.
I just wanted you to know.
I came back to take this class again because you said that a lot of kids take this class when they're 12, and it plants some seeds inside of them. Then they take this class again when they're 15 or 18—and it really bears fruit. I'm here for the fruit. Can I give you a hug?"
He hugged me. And I swallowed a lump and felt hot tears in my eyes.
I knew that my Strategic College Student class had a reputation for being transformative for students—but I'd never heard this before.
Don't miss your opportunity to plant seeds—don't miss your opportunity to harvest fruit.
My 1/2 day Strategic College Student class is now available online for students nationwide. Access it now using the details you'll find here.
Ideal age to attend this class? Ages 12–26 (and their parents).
Yep—all those people, all in the same room, all at the same time.
What are students saying about this class?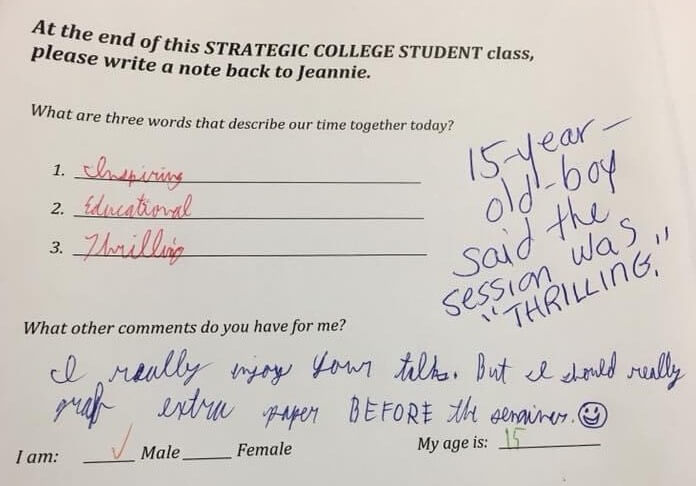 Parents are encouraged, but not required, to attend with their students. Parents, in just 1/2 a day you'll see your kids' anxiety levels drop, and you'll watch their sense of personal power and academic confidence steadily increase.
And you'll have all the info if your kids ever need a gentle nudge back onto the right track later.
Your child doesn't want to attend this class? Quick—read my article Should You Pay Your Teen to do Things?
If you're wondering whether your kid is too young for a class like this, don't miss my article 7 Reasons Your Middle Schooler Needs A College Study Skills Class.
Help us spread the word about this!
Copy this entire article and paste it right into your school, business, or nonprofit newsletter. Put a link to it in your Facebook group! Just include the words "By Jeannie Burlowski."
And if you've found valuable info in this article, please help by tweeting it out to the people who follow you.
Want clear, step-by-step help getting your kids through college debt-free?
After your kid takes my Strategic College Student class, get your copy of my book:
It's a reference book, so nobody reads the whole thing all at once—but even if you did, it would only take you 7 hours.
Pick out what you need to read in it using the fast-paced, 10-minute video instructions here.
You can see more than 90 reviews of this book on Amazon by going to:
(Tell your friends.)
You can see why financial advising professionals love LAUNCH, here.
You can see the top 9 questions parents are asking me about LAUNCH, here.
Read just one chapter of LAUNCH every 1–3 months while your child's in middle school and high school, and you'll know every viable strategy for debt-free college at exactly the right time to implement it.
And if your child's already well past middle school? That's OK; you can run to catch up. But the process of getting your kids through college debt-free goes more smoothly the earlier you start it—especially if you're not planning to save up any money to pay for college.
Do you have specific questions for me about debt-free college and career for your kids?
It's my members that get most direct access to me. Doors to my membership open each year for just 5 days in March, and 5 days in September. Space is limited. Join the Waiting List here.
Did you find this article through a Facebook post?
Please click the LIKE or SHARE button on that Facebook post right now. You'll be helping me get this info out to families who might never otherwise find out about it.
What about you? What's your plan for making sure your child develops top-notch academic skill early on?
Comment below or LIKE Jeannie Burlowski Author on Facebook, find this post on that page, and let's talk about it there.
Who is Jeannie Burlowski?
Jeannie is a full-time academic strategist, podcast host, and sought-after speaker for students ages 12–26 and their parents and grandparents. Her writing, speaking, and podcasting help parents set their kids up to graduate college debt-free and move directly into careers they excel at and love. Her work has been featured in publications such as The Huffington Post, USA Today, NerdWallet, and US News and World Report, and on CBS News.
Jeannie also helps students apply to law, medical, business, and grad school at her website GetIntoMedSchool.com. You can follow her on Twitter @JBurlowski.