I know that you want to get your kids through college debt-free, and straight into jobs they love afterward. Even if they don't get a single scholarship.
There are few things in the whole world more important to you than that.
You know that I've written a book that explains how to accomplish this, but it's so dang hard to find time to read.
This is exactly why I'm introducing some important changes coming this summer and fall.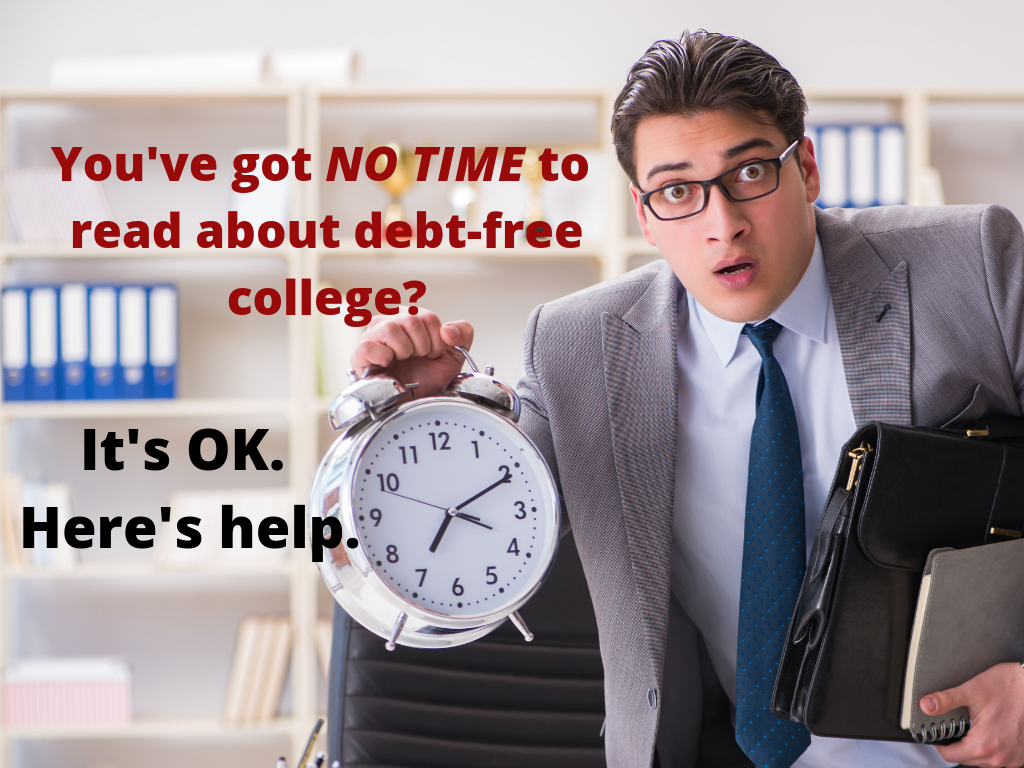 1. Bite-sized help—that doesn't require reading!
This fall, I'll be launching a bite-sized online course that teaches you the 12 most powerful things you as a parent can do to get your kids through college debt-free and into jobs they love afterward.
You'll want to take this life-changing course whether your kid's currently in middle school, high school, or college.
News about this online course will be coming out in the fall of 2019.
Watch my email newsletter for details.
(If you're not currently receiving my newsletter, sign up for email updates using the grey box here, and then add me to your "safe senders" list so that news from me will always show up right in your primary email inbox.)
2. I'm putting the Launch Your Teens podcast on hiatus for the summer.
The reason is, I'm preserving your time for something that's far more important right now.
You can still listen to the first 6 episodes of Launch Your Teens here.
(Episode 1 is especially a must-listen for you and your friends. It gives you all the basics you need to know right now, it points you to all the most efficient free help I provide, and it makes you feel extraordinary hope.)
3. I'm only sending out email newsletter articles every other week during the summer.
Why? Because I'm preserving your time for something that's far more important right now.
You'll still see my email newsletter in your inbox each week—as I've promised—but every other week this summer you'll just scan the left sidebar and that's it.
A time-saver!
4. Here's what to do with the time you save.
This summer, I want you to scan through the chapters labeled with  your kids' ages in my book, LAUNCH: How to Get Your Kids Through College Debt-Free and Into Jobs They Love Afterward.
You don't even have to read carefully—just scan the subheadings.
5. This will be easy.
The chapters are all labeled according to your kid's current month and year in school. If your kid's about to enter 11th grade, just quickly scan the chapters designed for parents of younger kids. (You'll pick up a a few excellent ideas there that will work any time!)
If you start to worry even a little that you're late to college planning—quick—read this article. It'll help you feel instantly better.
6. Notice how the book constantly says, "You don't have to do all the ideas in this book."
LAUNCH is like a buffet, where you choose what sounds fun and good to you, and just leave the rest.
It's not like a cake recipe, where if you leave out the flour it'll flop.
As you scan through the book, be on the lookout for just one idea that might save your particular family $50,000 on college costs.
Most people who follow me get their kids through college debt-free while doing only a fraction of the ideas in the book—so don't stress out thinking you have to do it all.
You can scan through LAUNCH in just one hour—and you can read it carefully in just 7 hours. So I'm not asking for a lot of time out of you.
7. Write down the questions you'd love to ask me.
If you have questions while you're scanning through LAUNCH, write them down. You'll have the opportunity to ask your questions during my bite-sized online course, coming this fall.
Can't afford to buy this book? Ask your local library to order it for you.
If you've found valuable info in this article, please help by tweeting it out to the people who follow you.
Here's the book:
You can "Look Inside" the book on Amazon for free by going to:
(Tell your friends.)
You can see why financial planners and wealth managers love LAUNCH, here.
You can see the top 9 questions parents are asking me about LAUNCH, here.
Read just one chapter of LAUNCH every 1–3 months while your child's in middle school and high school, and you'll know every viable strategy for debt-free college at exactly the right time to implement it.
And if your child's already well past middle school? That's OK; you can run to catch up. But the process of getting your kids through college debt-free goes more smoothly the earlier you start it—especially if you're not planning to save up any money to pay for college.
Did you find this article through a Facebook post?
Please click the LIKE or SHARE button on that Facebook post right now. You'll be helping me get this info out to lower-income families who might never otherwise find out about it.
What about you?
What are you doing to get your kids through college or job training debt-free? What's your strategy for making sure this education leads straight to a well-paying, fulfilling job after college?
Comment below or LIKE Jeannie Burlowski Author on Facebook, find this post on that page, and let's talk about it there.
What is the Launch Your Teens podcast?
At Launch Your Teens, parents of kids ages 12–26 learn how to set their kids up to graduate college completely debt-free, ready to jump directly into careers they excel at and love—even if they don't get a single scholarship. If you're new to Launch Your Teens, be sure to listen to all of episode 1 as soon as you can. It's just 23 minutes, and it gives you all the most important foundation you need for this journey.
Who is Jeannie Burlowski?
Jeannie is a full-time academic strategist, author, speaker, and podcast host. Her writing, speaking, and podcasting help parents set their kids up to graduate college debt-free and move directly into careers they excel at and love. Her work has been featured in publications such as The Huffington Post, USA Today, NerdWallet, and US News and World Report, and on CBS News.
Jeannie also helps students apply to law, medical, business, and grad school at her website GetIntoMedSchool.com. You can follow her on Twitter @JBurlowski.