By now you've heard about the college admissions scandal that has television celebrities such as Felicity Huffman and Lori Loughlin (and 48 other parents and college staff) facing prison time for falsifying college application information and paying bribes as high as $200,000 to $6.5 million to get students into elite and Ivy League universities.
This scandal is a big deal. It's got celebrity and other high-profile participants scrambling to hire high-priced consultants that advise the wealthy on how to navigate life in federal prison.
Here, the top two questions every parent should be asking about this scandal: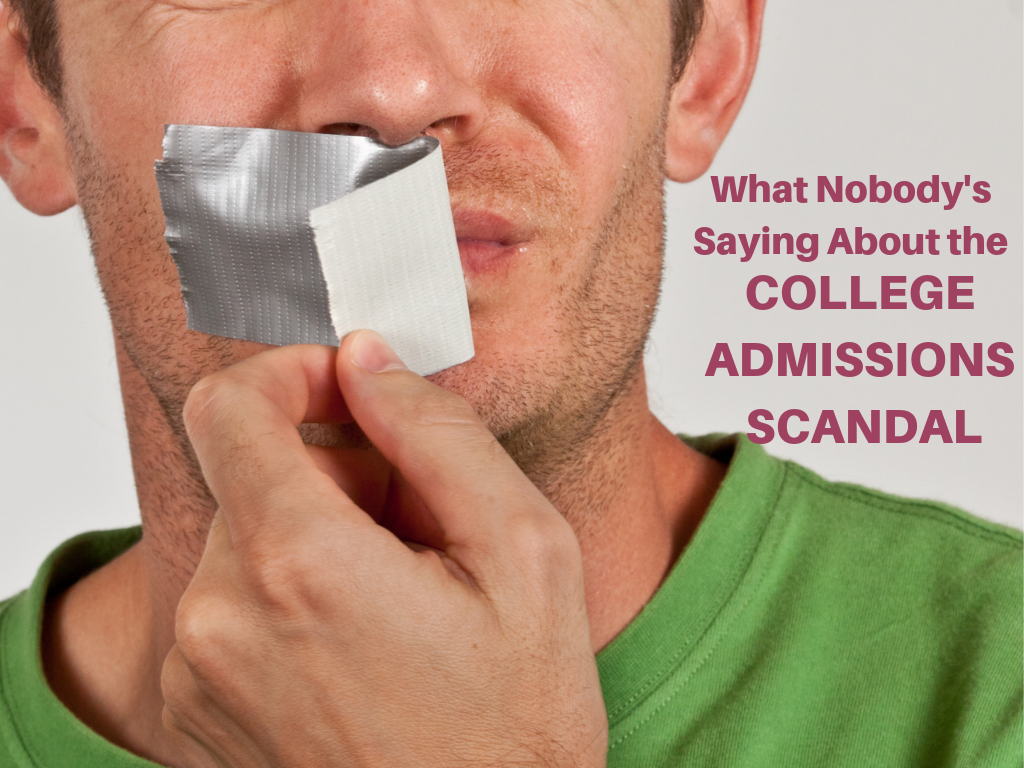 First question: "Is elite and Ivy League education really so important to future success and human happiness—that parents should give everything to make it happen for their kids?"
Second question: "Do we sell our kids short—do we compromise the quality of their future lives—when we don't push them toward elite and Ivy League education?"
Here are 5 reasons that the answers to these questions are "no" and "no."
1. Gallup research reveals that elite and Ivy League education doesn't actually help your kid that much. 
I've written an article here and I've done a 9-minute YouTube video here explaining that Gallup research on more than 29,000 college graduates of all ages reveals: Elite and Ivy League education doesn't move the needle one bit on 5 separate measures of human thriving and happiness.
2. Former Yale professor Bill Deresiewicz urges parents to talk their kids out of applying to the Ivy League.
Deresiewicz, in his book, says that the intense competition to get into an elite school can hobble a child for life.
"These enviable youngsters appear to be the winners in the race we have made of childhood," he writes. "But the reality is very different… Our system of elite education manufactures young people who are smart and talented and driven, yes, but also anxious, timid, and lost, with little intellectual curiosity and a stunted sense of purpose: trapped in a bubble of privilege, heading meekly in the same direction, great at what they're doing but with no idea why they're doing it."
Learn 8 more reasons Bill Deresiewicz hopes your kids won't apply to Ivy League schools in the article I've written here.
3. Research shows that college debt damages future human happiness to a far greater degree than does attending a lower ranked college or university.
Read the important article I've written on this subject here and see a short video where I talk about this subject (and offer help and hope) here.
Students may want to avoid state universities because they aren't the bargains they're all cracked up to be (as I've written here), and for-profit colleges are to be avoided at all costs (as I talk about here), but never fear. There are still thousands of good quality colleges and universities available that equip students for excellent careers after college graduation.
4. To see what I believe to be the single most important factor in getting kids to thriving, happy career lives after college, read chapter 13 of my book:
5. You can see me being interviewed on this subject by CBS News anchor Paul Mueller here.
Paul interviewed me on Facebook Live after his March 18th, 2019 TV interview with me was over. The Facebook Live video is getting thousands of views, and people are saying it's super helpful.
If you've found valuable info in this article, please help by tweeting it out to the people who follow you.
Get 10-minute, fast-paced video instruction on how to use LAUNCH most efficiently at bit.ly/easylaunchinstructions.
You can see more than 100 reviews of it on Amazon at:
(Tell your friends.)
You can see why financial advising professionals love LAUNCH, here.
You can see the top 9 questions parents are asking me about LAUNCH, here.
Read just one chapter of LAUNCH every 1–3 months while your child's in middle school and high school, and you'll know every viable strategy for debt-free college at exactly the right time to implement it.
And if your child's already well past middle school? That's OK; you can run to catch up. But the process of getting your kids through college debt-free goes more smoothly the earlier you start it—especially if you're not planning to save up any money to pay for college.
Take a step on this right now. Get regular, inspiring help from me—every Monday morning.
Subscribe to my free weekly email newsletter here.
Do you have specific questions for me about debt-free college and career for your kids?
It's my 
members
 that get most direct access to me. Doors to my membership open each year for just 5 days in March, and 5 days in September. Space is limited. 
Join the Waiting List here.
Did you find this article through a Facebook post?
Please click the LIKE or SHARE button on that Facebook post right now. You'll be helping me get this info out to lower-income families who might never otherwise find out about it.
What about you? What are your thoughts on the college admissions scandal, and on the perceived importance of elite education?
Comment below or LIKE Jeannie Burlowski Author on Facebook, find this post on that page, and let's talk about it there.
Who is Jeannie Burlowski?
Jeannie is a full-time academic strategist, podcast host, and sought-after speaker for students ages 12–26 and their parents and grandparents. Her writing, speaking, and podcasting help parents set their kids up to graduate college debt-free and move directly into careers they excel at and love. Her work has been featured in publications such as The Huffington Post, USA Today, Parents Magazine, and US News and World Report, and on CBS News.
Jeannie also helps students apply to law, medical, business, and grad school at her website GetIntoMedSchool.com. You can follow her on Twitter @JBurlowski.