Will your child will be headed to college (or technical school) in the fall of 2017? If so, I have important financial aid information for you.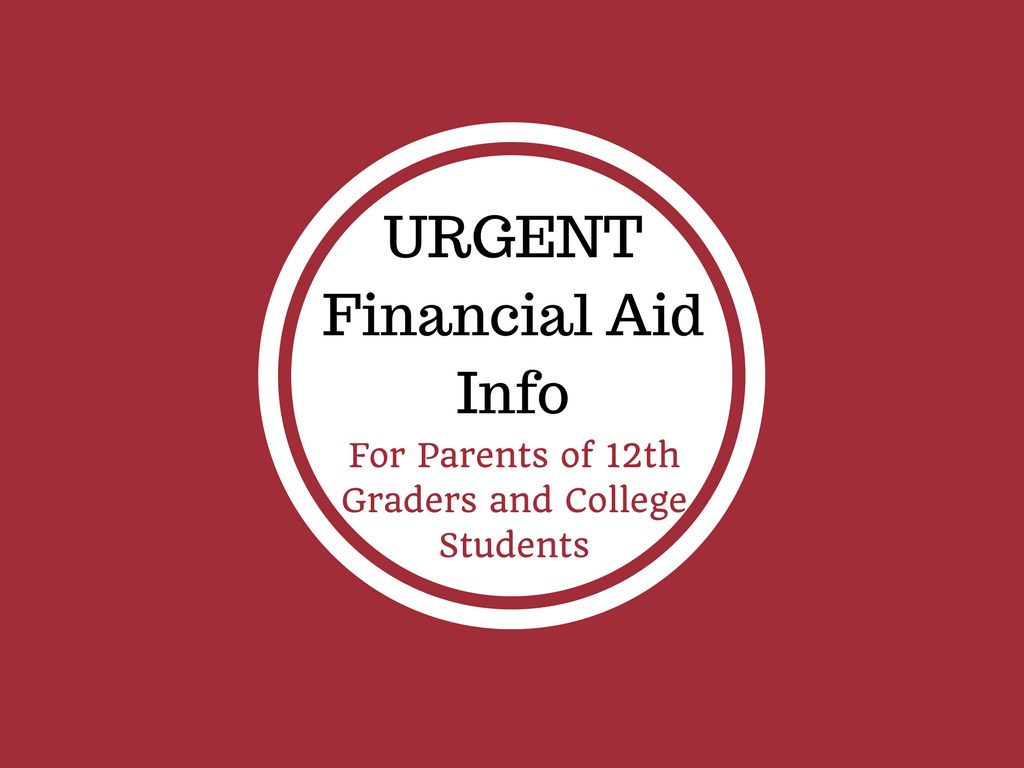 1. If you haven't done so already, it's important that you fill out the FAFSA financial aid form right now.
You can make $200,000 and still qualify for help paying for college, but you need to apply now.
2. An important tool that the government provides to help you fill out the FAFSA form is currently off-line.
For the past five years, the federal government has provided a nifty tool designed to help parents fill out the FAFSA form faster and more accurately. It's called the IRS Data Retrieval Tool (DRT for short). This tool allows those filling out the FAFSA form to click once and have all necessary financial information transferred from their tax returns to the appropriate spot on the FAFSA form — automatically.
Unfortunately, the IRS Data Retrieval Tool has been pulled off-line and will be unavailable for use until (we are told) October 1, 2017.
If you find an article online that says that the DRT will be back "in a couple of weeks," that is outdated information. The current word is that it'll be back on October 1, 2017.
3. This means that if you haven't yet completed the FAFSA for your child who'll be in college in the fall of 2017, you'll have to enter your tax info in manually.
It'll be a little more tedious, but please do it. Doing so now could save your child thousands of dollars in future college costs.
4. You'll need your 2015 tax information in front of you when you do this. Here's how to find that information:
A. You may have a printed copy of this tax information in your own personal files.
B. You may be able to get this information from the tax professional who filed your 2015 taxes for you, or from the tax software you used to prepare your 2015 taxes yourself.
C. You can view and download a summary of your 2015 tax form (properly called "a transcript") at www.irs.gov/transcript. Just click on "Get Transcript Online."
D. You can have the 2015 tax information you need mailed to you. Request it by going to www.irs.gov/transcript and clicking on "Get Transcript by Mail."
D. You can also request that your 2015 tax information be mailed to you by calling the IRS during business hours at 1-800-908-9946.
5. Understand why the IRS Data Retrieval Tool was taken off-line.
According to NerdWallet and the New York Times, "The IRS…decided to temporarily suspend the Data Retrieval Tool (DRT) as a precautionary step following concerns that information from the tool could potentially be misused by identity thieves."
6. If you have a child who is currently 19-24 years of age, and you filled out a FAFSA form for him or her in 2011, 2012, 2013, 2014, 2015, or 2016, you need to know this:
According to what the Department of Education and the IRS are telling us, there is a small chance that you may be the victim of tax-related identity theft.
According to the IRS:
The IRS is working to identify the number of taxpayers affected by questionable use of the Data Retrieval Tool. Identity thieves may have used personal information obtained outside the tax system to access the FAFSA form in an attempt to secure tax information through the DRT. The IRS continues to review the extent to which this contributed to fraudulently filed tax returns. The IRS has identified instances where our strengthened fraud reviews stopped questionable tax returns by filers who also accessed the DRT.
7. If you fall into this category, be sure read your mail carefully over the next 6 months.
Don't throw away any envelopes that look like they could be from the IRS or from the Department of Education.
The IRS is telling us:
As the IRS identifies taxpayers with personal information at risk through misuse of the data tool, it is marking and locking down those taxpayer accounts to provide additional protection against an identity thief filing a fraudulent tax return. As an internal review continues, the IRS also is finalizing plans to notify affected taxpayers by mail about possible identity theft concerns. The scope of affected taxpayers is still being determined.
8. Be sure to apply for financial aid as early as possible next time, OK?
To make sure your kid gets the most free money possible to help pay for his or her college, be sure to follow the special FAFSA instructions I explain on pages 228 – 252 of my book. For best results, mark your calendar to read and re-read these page 228 – 252 instructions every September 1 that you'll have a child in college the following year. This is the only way I have of communicating to you what to do to make sure your child gets maximum help paying for college.
9. To learn more about financial aid than your child's guidance counselor will ever think to tell you, read the article I've written here. 
It's a fast, easy read, and it'll give you great hope that you can set your kids up to get maximum financial aid for college.
Taking care of this may be cumbersome and tedious, but it's important.
There is no part of parenting more important than setting your kid up for successful college and career life.
Get full help from me by getting my book.
It contains much more info than just maximizing financial aid and getting scholarships.
You can "Look Inside" the book on Amazon for free by going to:
(Tell your friends.)
You can see the "Top 9 Questions Parents Are Asking Me About LAUNCH," here.
Read just one chapter of LAUNCH every 1-3 months while your child's in middle school and high school, and you'll know every viable strategy for debt-free college at exactly the right time to implement it.
And if your child's already well past middle school? That's OK; you can run to catch up. But the process of getting your kids through college debt-free goes more smoothly the earlier you start it – especially if you're not planning to save up any money to pay for college.
Do you have friends who are parenting kids ages 16 – 24? SHARE this post on Facebook, Twitter, and LinkedIn right now.
What about you? Has the IRS mailed you telling you that your identity has been compromised following use of the DRT? Comment below or LIKE Jeannie Burlowski Author on Facebook, find this post on that page, and let's talk about it there.
Who is Jeannie Burlowski?
Jeannie is a full-time academic strategist, author, speaker, and podcast host. Her writing, speaking, and podcasting help parents set their kids up to graduate college debt-free and move directly into careers they excel at and love. Her work has been featured in publications such as The Huffington Post, USA Today, NerdWallet, and US News and World Report.
Jeannie also helps students apply to law, medical, business, and grad school at her website GetIntoMedSchool.com. You can follow her on Twitter @JBurlowski.