Today I have urgent financial aid info for parents of 9th graders.
You need to know that this coming January 1st, a team of photographers is going to show up at your house.
Not actual photographers, but that's a good way to think of it.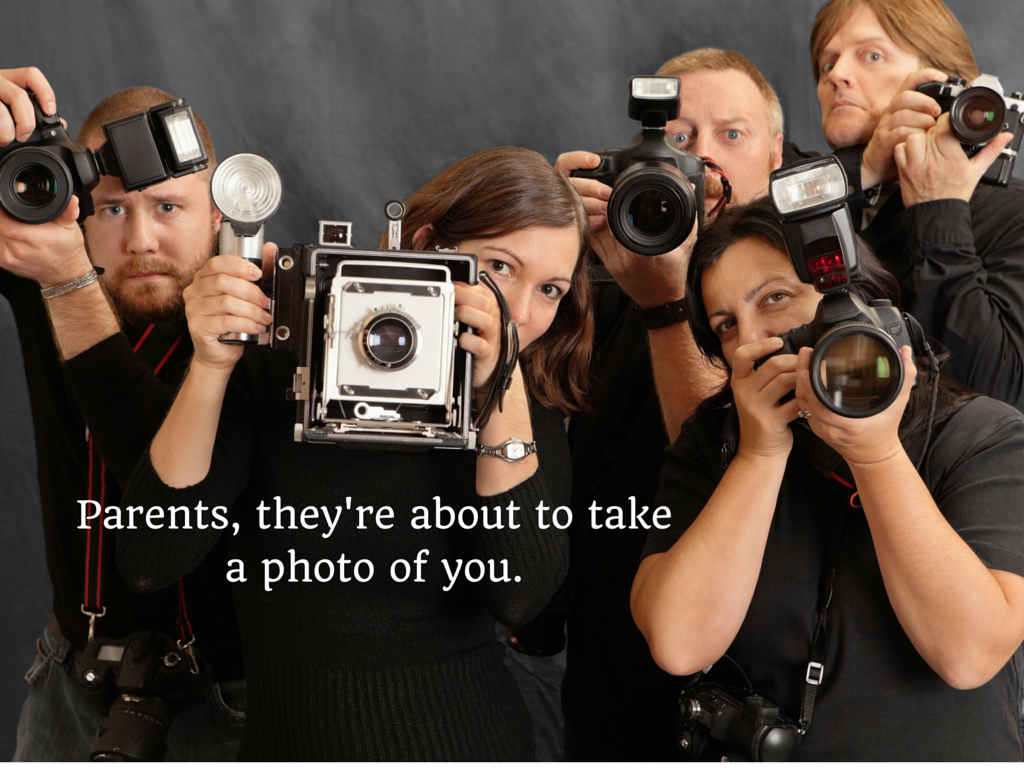 You've probably already heard a little bit about how applying for college financial aid works, right?
Well, there's an important piece of the college financial aid process that you need to know about right now.
To explain this, let me give you a quick summary of how applying for financial aid works.
You will fill out the Free Application for Federal Student Aid (FAFSA) in October, 11 months before your child starts college. The federal government will use the information you put on this form to figure out "how much your family can afford to pay for college." Then, a few months later, colleges your child is interested in will figure out how to help you as parents cover the costs it has been determined you "can't afford."
The big question is: How does the federal government "figure out how much your family can afford to pay for college"?
They do it by taking a one-year snapshot of your family finances. Just one year. If you happen to look poor during that year, you'll get far more free money to help pay for college. If you happen to look rich during that year, your child will get far less free money to help pay for college.
"Wow; I'd better pay attention to this! When does this very important year start?"
The year will start January 1st of your child's 10th grade year. It will end December 31st of your child's 11th grade year.
Parents, it's smart for you to think right now about what you'll look like in this important snapshot.
If the shutter goes "click" and you appear to have a nice high income—guess what. The response is going to be: "Well, this kid comes from a nice wealthy family! They can afford to write checks to cover the tuition here! We won't have to give HIM much help!"
Gulp.
Parents, it's possible for you to intentionally affect the content of this snapshot.
You have from today to December 31st of your child's 10th grade year to plan to reduce the following year's income. You'll want to reduce it to whatever degree you can, so that next year's financial picture doesn't accidentally make you look like you're Bill Gates.
Here are two ways families can reduce income in order to affect the snapshot:
1. If you're a two-income family, could one parent stop working, and instead put extra time and effort into helping the family live more frugally? According to this post by Kiplinger, "Every $10,000 increase in parent income," (during what I'm referring to as the snapshot year) "will cause about a $3,000 decrease in need-based financial aid."
2. If you're getting a big bonus at work, a nice hefty sales commission, or a big insurance settlement, could you try to get that in and deposited into your bank account on or before December 31st of your child's 10th grade year? If you take that money during what I'm calling the snapshot year, you'll make yourself look far wealthier than you really are when this particularly important picture is taken.
I provide additional helpful strategies for affecting how you'll look during the snapshot year in Chapter 10 of my book, LAUNCH: How to Get Your Kids Through College Debt-Free and Into Jobs They Love Afterward. Get your copy on Amazon now, and go straight to Chapter 10.
The government doesn't actually show up at your house with lights and cameras.
Instead, the government will take this "snapshot" by asking you to fill out the FAFSA form in October, 11 months before your child plans to start college. On that day, you'll be asked to report details about what your income was during this special timeframe I'm warning you about. (January 1st of your child's 10th grade year to December 31st of your child's 11th grade year.) Don't be like other parents who've realized this too late and said, "Oh no! I wish I'd have known sooner that so much was hinging on this one year! I'd have planned better!"
No matter how high your income is, plan to always fill out the FAFSA form every October you'll have a kid in college the following fall. 
Even if your household income is $200,000 a year, I still want you to fill out the FAFSA form. It's the gateway to more college aid money than you could ever imagine, and it also helps your child get the best, least expensive student loans if those are ever going to be needed.
Every year, millions of families leave money on the table because they mistakenly assume that their income must be too high for them to qualify for financial aid to help pay for college. Don't make this mistake. Fill out the FAFSA every single year on the first day it's available so that your child can jump first in line for financial aid money.
If you need additional reasons to fill out the FAFSA despite your high income, read my article on 7 Reasons to Fill Out FAFSA Even if You're Rich.
If you've found valuable info in this article, please help me by tweeting it out to the people who follow you.
Remember, getting the most financial aid possible is only a small part of the picture when it comes to getting your kid through college debt-free. 
For clear, step-by-step help with the whole process from beginning to end, get your copy of my book.
You can "Look Inside" the book on Amazon for free by going to:
(Tell your friends.)
You can see why financial planners and wealth managers love LAUNCH, here.
You can see the top 9 questions parents are asking me about LAUNCH, here.
Read just one chapter of LAUNCH every 1–3 months while your child's in middle school and high school, and you'll know every viable strategy for debt-free college at exactly the right time to implement it.
And if your child's already well past middle school? That's OK; you can run to catch up. But the process of getting your kids through college debt-free goes more smoothly the earlier you start it—especially if you're not planning to save up any money to pay for college.
Did you find this article through a Facebook post?
Please click the LIKE or SHARE button on that Facebook post right now. You'll be helping me get this info out to lower income families who might never otherwise find out about it.
What about you?
What strategies have you found for getting maximum amounts of financial aid for your kids' college? Comment below or LIKE Jeannie Burlowski Author on Facebook, find this post on that page, and let's talk about it there.
Who is Jeannie Burlowski?
Jeannie is a full-time author, academic strategist, and speaker. Her writing and speaking help parents set their kids up to graduate college debt-free and move directly into careers they excel at and love. Her work has been featured in publications such as The Huffington Post, USA Today, NerdWallet, and US News and World Report.
Jeannie also helps students apply to law, medical, business, and grad school at her website GetIntoMedSchool.com. You can follow her on Twitter @JBurlowski.