You may want to start reducing your family income right away.  Now.  Today.
Read on and I'll explain why.
On January 1, 2016, a photographer is going to show up at your house.
Not an actual photographer, but that's a good way to think of it.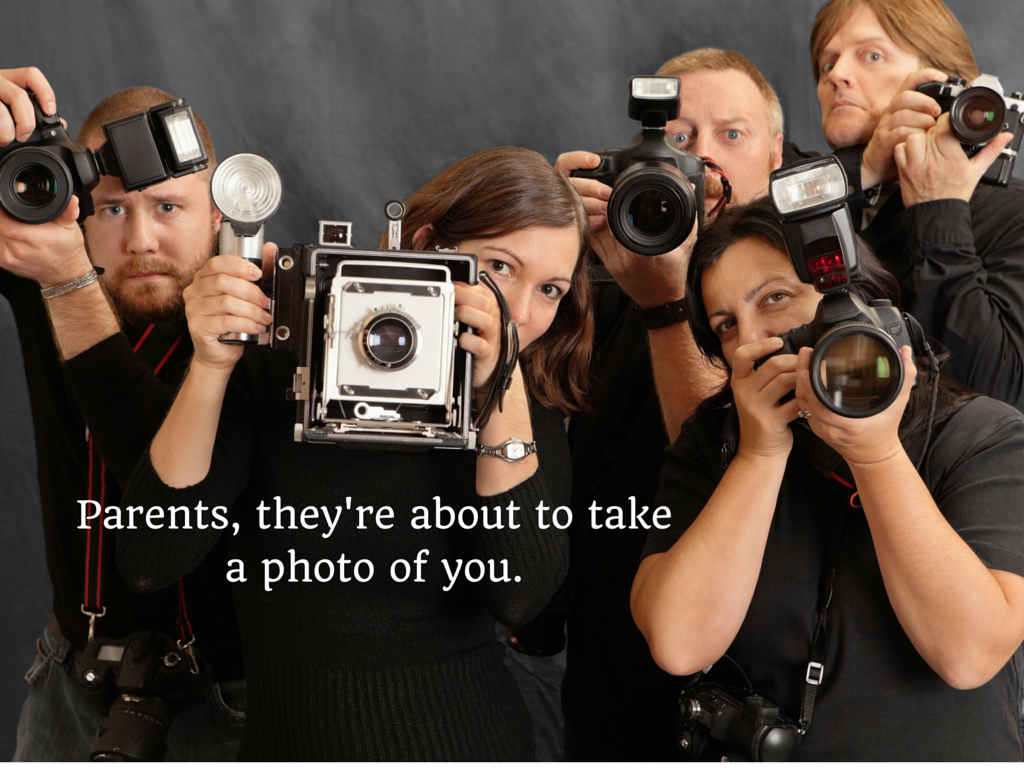 On January 1, 2016, the federal government is going to show up and take a snapshot of your family finances.  This snapshot will give the government a good picture of your family income and assets.  This snapshot will then be shared with financial aid people at colleges and universities, so they can figure out how much money your kid will need from outside sources to help pay for college next year.
But wait — this particular snapshot will be extra important, because it'll be used twice, instead of just once. 
Because of President Obama's 9/13/15 changes to the financial aid system, this snapshot (which will be of your 2015 finances) will count once for the 2016-17 academic year (before the new financial aid application changes go into effect), and then again for the 2017-18 academic year, when the process of applying for financial aid switches over to its new timeline.
Parents, you need to think right now about what you'll want to look like in this important snapshot.
If the shutter goes "click" and you appear to have a nice high income and large amounts of assets — guess what.  The college financial aid office people who decide how much free money your kid gets to help pay for college are going to say:  "Well, this kid comes from a nice wealthy family!  They can afford to write checks to cover the tuition here!  We won't have to give HIM much help!"
Gulp.
Parents, on January 1, 2016, you'll want to make sure that the picture the government gets reflects reality.
If your family isn't able to pay $40,000 – $50,000 a year for college, you'll want to be very very sure that the financial aid office staff understands that.
Parents, plan ahead now for what you'll look like in this snapshot.  Here's your first step.
The first step is to understand that when the government shows up to take this special important snapshot on January 1, 2016, they will look only at this specific period of time: January 1, 2015 to December 31, 2015.
Parents, understand the degree to which you can affect the content of  this snapshot.
You have from today to December 31, 2015 to reduce your income and assets to whatever degree you can, so that your 2015 financial picture doesn't accidentally make you look like you're Bill Gates.
Here are a few ways that families sometimes reduce income and assets in order to affect the snapshot:
1. If you're a two-income family, could one of you stop working, and instead put extra time and effort into helping the family live more frugally?  According to this post by Kiplingers, "'Every $10,000 increase in parent income (during 2015) will cause about a $3,000 decrease in need-based financial aid,' says Mark Kantrowitz, publisher of Edvisors.com, a college planning website."
2. If you're getting a big bonus at work, a nice hefty sales commission, or a big insurance settlement — could you hold off on taking that until January 1, 2016?  If you take it sooner, you'll make yourself look far wealthier than you are when this particularly important snapshot is taken.
3.  If your family has an UTMA or UGMA account in your child's name, could you quickly do this?  Convert the UTMA or UGMA account to a 529 college savings plan in the child's parent's name, with the child named as beneficiary?  Ask a financial advisor if this might be a wise move for your family.
4. If you own a small business with 100 or fewer employees, could you do this?   Take any extra cash you have and invest it in business improvements?  Buy more advertising?  Build a much-needed warehouse?   The value of your small business with under 100 employees is out of the snapshot.  It doesn't affect your kid's financial aid eligibility whatsoever.
(These are all big decisions.  Run these ideas by your financial advisor to be sure the actions you're taking are best for your individual situation.)
5.  If you happen to be sitting on an extra large pile of cash or assets right now, think about this.  When the shutter clicks in January 2016, you'll be asked to report the current balance (or current market value) of all of your different accounts.  The value of the home you live in, though, won't count at all.  So if you were planning to do a much-needed home renovation or replace an old appliance or furnace anyway — try to get that done by December 31, 2015 if you can.
Maximize your potential for getting the most financial aid possible.
The government doesn't actually show up at your house with lights and cameras.  Instead, the government takes this "snapshot" by asking you to fill out the FAFSA form.   No matter how high or low you think your family income is, please fill out the FAFSA form every single year you have a kid in college the following fall — even if you make $200,000 a year.  Every single year, millions of families leave money on the table because they mistakenly believe that their income must be too high for them to qualify for financial aid.  Don't make this mistake.  Fill out the FAFSA every single year on the first day possible so that your child can jump first in line for financial aid money.  (Note, if your child will be in college in fall 2016 and then again in fall 2017, you'll be filling out the FAFSA form on both January 1 and October 1 this year.)
Be sure to fill out your next FAFSA form right away this coming January 1st.  Don't worry that you won't know a lot of the numbers you need for the form; just estimate the numbers based on your December 31, 2015 pay stub.   Submit the form right away to get first in line for financial aid money — and then amend and change the the form once you have your 2015 taxes done.
***Special note for families of high school sophomores:
If you're a parent of a college-bound 10th grader, important financial aid decisions about your family will be made based on a snapshot of a different time period:  January 1 – December 31, 2016.  I'll be providing special, different instructions for you in my email newsletter coming out on October 19th, 2015.  You can subscribe to my newsletter now using the form on this site.
Would you like free, clear, step-by-step help getting your kids through college debt-free?  
Subscribe to my weekly email newsletter using the form on this site, and then open it every single time it lands in your email inbox.  For up-to-the-minute help for your individual situation, click on your child's age in the "WHAT TO DO WHEN" section on this website.
What thoughts do you have on getting your kids more financial aid for college?  What have you done so far that's been helpful?  Comment below, or LIKE Jeannie Burlowski Author on Facebook and let's talk about it there.  Do you have friends who are currently raising high school age kids or college students?  SHARE this post on Facebook, Twitter, and Linkedin right now.
Who is Jeannie Burlowski?
Jeannie Burlowski is a full-time consultant, author, and conference speaker. She helps parents set their kids up to graduate college debt-free and move directly into careers they excel at and love.  Her book LAUNCH: How to Get Your Kids Through College Debt Free and Into Jobs They Love Afterward is due out within months.  You can find Jeannie's free, clear, step-by-step help for parents in the "WHAT TO DO WHEN" section on this website.  Follow her on Twitter @JBurlowski.
"We only got around to doing a fraction of what Jeannie tells people to do in the free help on her website, and we saved well over $50,000 on college costs. Our daughter earned a four year degree from an excellent private university at age 20, and she's now in California happily working her dream job at Disney. Get to one of Jeannie's live classes if you can. Buy a plane ticket if you have to!" — Liz and Tim Weatherhead, parents, Bloomington, MN