If you would like consulting help specifically from me, Jeannie Burlowski, please read to the bottom of this page. 
If you are looking for a college or career consultant or a financial planner, you will find a list below of consultants and financial planners I have personally screened and approved.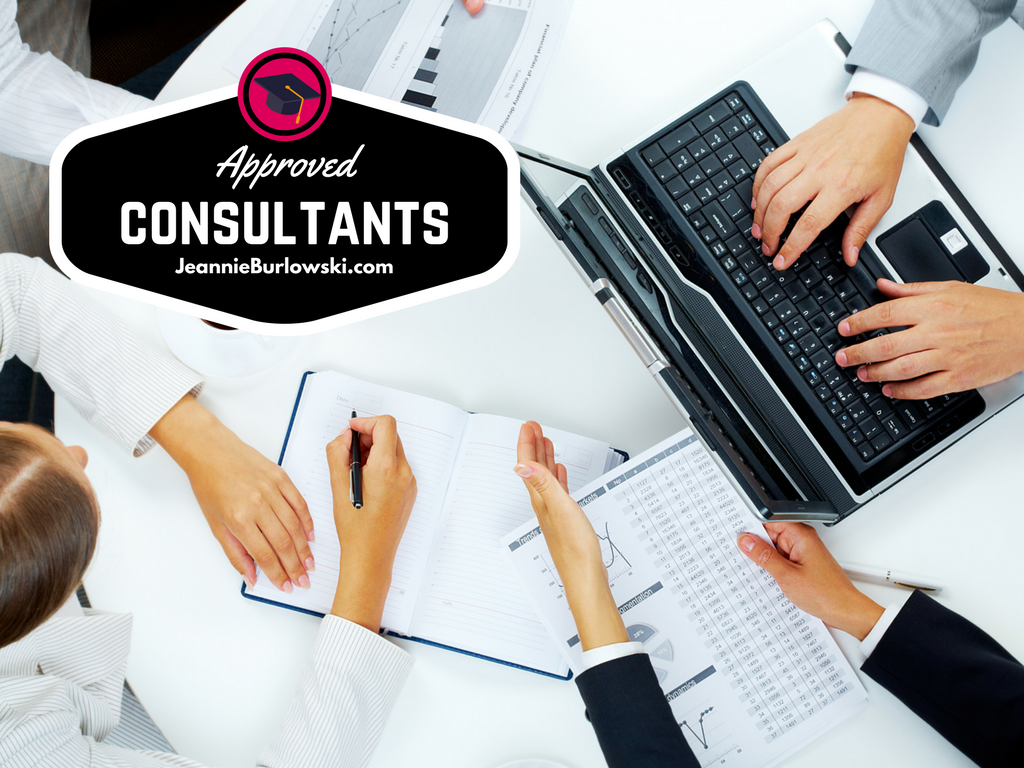 For certified help using the Myers-Briggs Type Indicator, the Strong Interest Inventory, and the StrengthsFinder 2.0 assessment to think through career options, contact one of the approved providers on this list:
* Your child can take the StrengthsFinder assessment at any time for less than $20 simply by ordering the book StrengthsFinder 2.0 on Amazon.com at this link.  When it comes to the remaining two assessments, though, it's important that your son or daughter take the real Myers-Briggs and the real Strong Interest Inventory under the supervision of a certified provider. The fee you pay for this assessment service includes a phone appointment where the consultant speaks with you personally for 30-60 minutes in order to "verify type" on the Myers-Briggs.  Note that the "free" MBTI and SII assessments you find online are not the same thing, and are not recommended for our purposes.
The recommended consultants above will assist you to "verify type" on the Myers Briggs. If you'd like me to do "storyfinding" for your son or daughter as well, read to the bottom of this page.
For certified financial planning that emphasizes strategizing for debt-free college and retirement at the same time, contact one of the approved providers on this list:
If you have an extremely complicated financial situation or a very high family income, contact: 
If you are a financial planner or other investing professional who'd like to purchase software that will allow you to do high level financial planning that combines college and retirement planning, I recommend you purchase the software provided by:
*I am not compensated in any way for making these recommendations.
If you'd like your name to be added to one of the above lists, do this.
Reach me through the contact tab on this website. Note that I do not ever recommend consultants whose websites promise "getting kids into their dream schools." I only endorse consultants who take the long view, emphasizing the use of three assessments (MBTI, SII, and StrengthsFinder 2.0) to zero in on career goal early on, and then finding accredited, good fit colleges that are best bets for getting kids through college debt-free in record time and into jobs they love afterward.
If you want my professional help with a law, medical, business, or graduate school application, visit me at GetIntoMedSchool.com. When you get there, click on GET HELP NOW. My client roster fills up quickly every year, so contact me early.
If you would like to purchase a two-hour "storyfinding" appointment with me, here's what to do.
My "storyfinding" appointments are two-hour phone appointments where I have parents and students on the line at the same time. During this meeting I personally look through your child's MBTI, SII, and StrengthsFinder 2.0 assessment results, ask your child many questions, and then zero in on one particular career goal that could make perfect sense for him or her to talk about in college and scholarship application essays.
Once we've got this career goal in our sights, I help your child figure out a a compelling true story from his or her own life that goes right along with that career goal. This story, followed by the well-thought-through career goal, will provide the foundation for a stunning, fantastic college and scholarship application essay that will "MAKE THEM SAY WOW."
Having an essay like this ready to go will be fantastically helpful for your family, because if your son or daughter has a great essay that starts out with an outstanding goal perfectly coupled with a compelling story, he or she can modify that essay and use it over and over again to apply for more than 80 scholarships over 8 years.
Necessary prerequisites for a storyfinding appointment with me:
Families requesting a storyfinding appointment with me are required to complete three steps before asking me for an appointment:
1) Have the Myers-Briggs and Strong Interest Inventory assessments administered by a certified provider as described above. Complete the phone appointment necessary to "verify type" on the Myers-Briggs.
2) Take the StrengthsFinder 2.0 assessment as described above.
3) Complete my 2-hour MAKE THEM SAY WOW: How to Write Brilliant College and Scholarship Application Essays class. You can find out how to access that class by reading my free weekly email newsletter every week. (Once you've subscribed, click here to learn how to "whitelist" my newsletter with your email provider so it ends up in your primary email inbox every single week.)
The cost for a two-hour storyfinding phone appointment with me is on sale for a limited time for just $299.00. (Regular price: $495.00.)
To purchase a storyfinding meeting for yourself or someone you love, use Paypal.com to send $299.00 to this Paypal email address: brilliantincollege@gmail.com. In the Paypal comments box, tell me the date your son or daughter completed the MAKE THEM SAY WOW class, and give me three dates and times you can be available for a storyfinding appointment. I will get back to you with a telephone appointment time. Note that there is always a long, long waiting list for my storyfinding appointments in June, July, and August.