Will your child will be headed to college (or technical school) in the fall of 2017? If so, I have important financial aid information for you.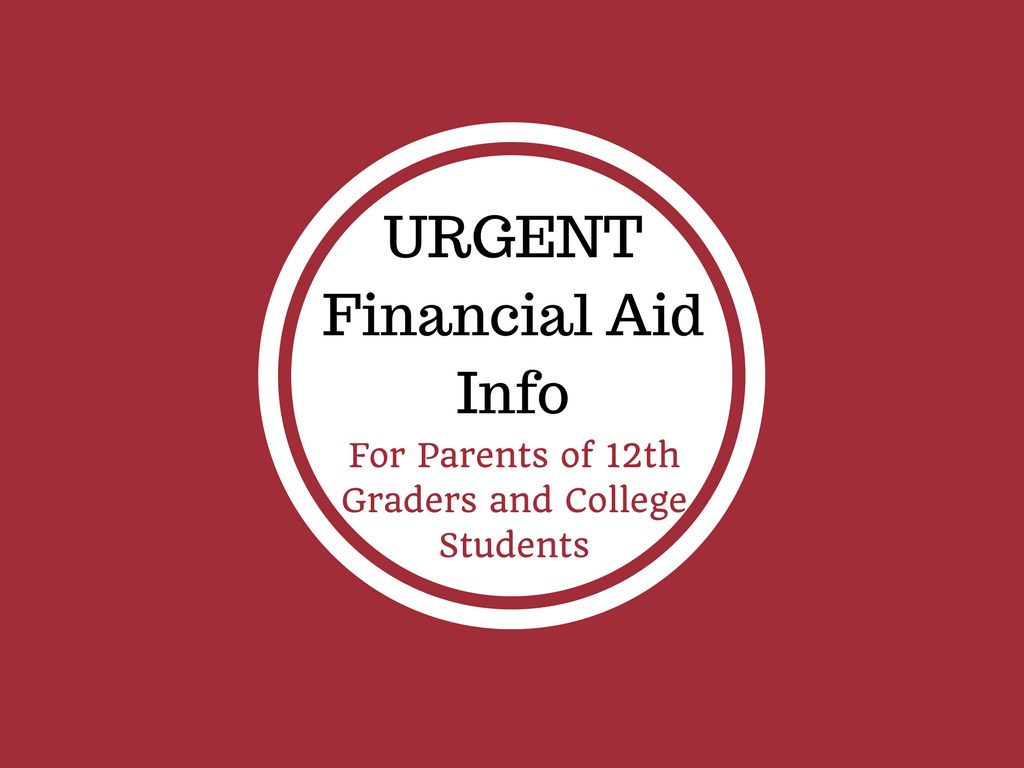 1. If you haven't done so already, it's important that you fill out the FAFSA financial aid form right now.
You can make $200,000 and still qualify for help paying for college, but you need to apply now.
2. An important tool that the government provides to help you fill out the FAFSA form is currently off-line.
For the past five years, the federal government has provided a nifty tool designed to help parents fill out the FAFSA form faster and more accurately. It's called the IRS Data Retrieval Tool (DRT for short). This tool allows those filling out the FAFSA form to click once and have all necessary financial information transferred from their tax returns to the appropriate spot on the FAFSA form — automatically.
Unfortunately, the IRS Data Retrieval Tool has been pulled off-line and will be unavailable for use until (we are told) October 1, 2017.
If you find an article online that says that the DRT will be back "in a couple of weeks," that is outdated information. The current word is that it'll be back on October 1, 2017.
3. This means that if you haven't yet completed the FAFSA for your child who'll be in college in the fall of 2017, you'll have to enter your tax info in manually.
It'll be a little more tedious, but please do it. Doing so now could save your child thousands of dollars in future college costs.
4. You'll need your 2015 tax information in front of you when you do this. Here's how to find that information:
A. You may have a printed copy of this tax information in your own personal files.
B. You may be able to get this information from the tax professional who filed your 2015 taxes for you, or from the tax software you used to prepare your 2015 taxes yourself.
C. You can view and download a summary of your 2015 tax form (properly called "a transcript") at www.irs.gov/transcript. Just click on "Get Transcript Online."
D. You can have the 2015 tax information you need mailed to you. Request it by going to www.irs.gov/transcript and clicking on "Get Transcript by Mail."
D. You can also request that your 2015 tax information be mailed to you by calling the IRS during business hours at 1-800-908-9946.
5. Understand why the IRS Data Retrieval Tool was taken off-line.
According to NerdWallet and the New York Times, "The IRS…decided to temporarily suspend the Data Retrieval Tool (DRT) as a precautionary step following concerns that information from the tool could potentially be misused by identity thieves."
6. If you have a child who is currently 19-24 years of age, and you filled out a FAFSA form for him or her in 2011, 2012, 2013, 2014, 2015, or 2016, you need to know this:
According to what the Department of Education and the IRS are telling us, there is a small chance that you may be the victim of tax-related identity theft.
According to the IRS:
Continue Reading »