About a month ago I filled a room to overflowing with teens and parents eager to learn how to write a scholarship application essay that would "Make Them Say WOW."
17-year-old boys ran around setting up more tables for me, even though it meant that their long legs had less space to stretch out. Teens who reportedly "never" take notes in classes  bent over tables, writing as fast as they could and shooting hands up to ask some of the best questions ever.
I love these kids.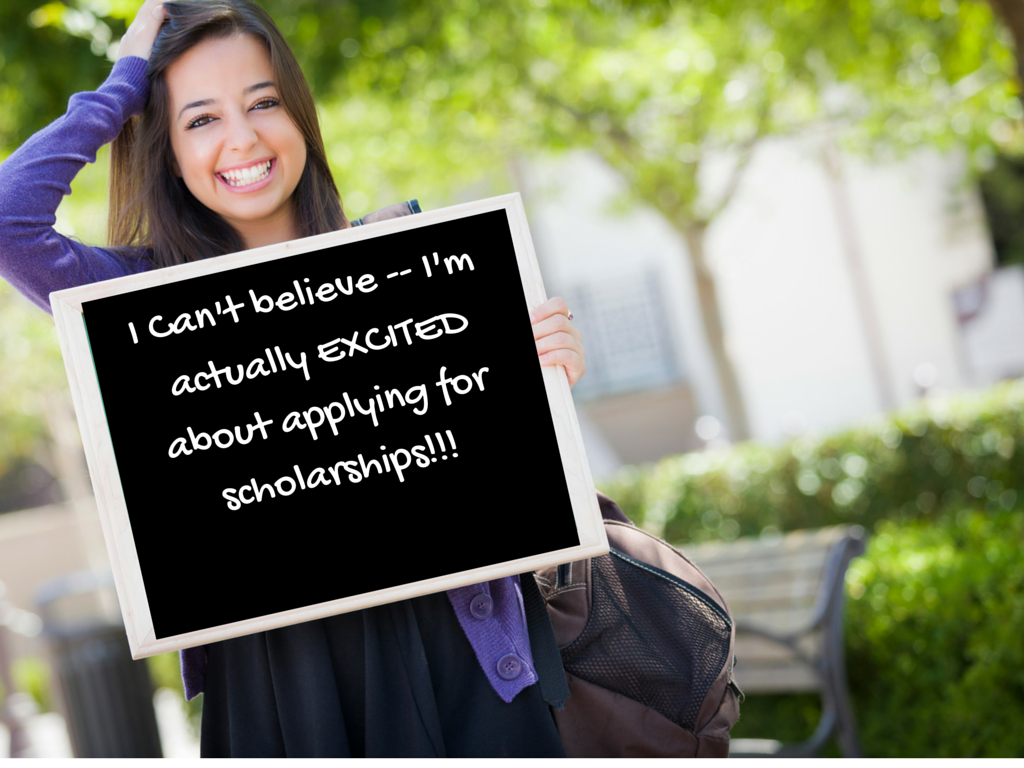 We told stories, we laughed, and we gasped — and we covered:
  How to use the three principles of argument that lawyers use when arguing a case in court to write one powerfully convincing scholarship application essay that can be used over and over again
  How to set the reader's emotions on fire by using strong visual sensory imagery
  How to use a clever, multi-layered essay structure that beats the boring old "introduction – body – conclusion" essay structure hands down every time.
(If you missed this class this time around, be sure you're reading my free weekly email newsletter every single week so you'll be among the first to know when my next class on applying for scholarships is scheduled.)
As a result of this class we've now got a small army of teens who are on fire about applying for scholarships.  To help these kids out, today I'm posting a list of 42 different scholarships any student can apply for.  This particular list comes to us courtesy of Scholarship America, a Minnesota-based philanthropic organization that has distributed billions of dollars to students since its inception in 1957.  In 2012 Forbes ranked Scholarship America as the 83rd largest charity in the United States.  In 2013 alone Scholarship America distributed more than $200 million to 100,000 American and international students!
(Wow; do you think they might have some scholarship money for you?)
Students, to get yourself jazzed and ready to apply for these scholarships, do just two things.  First, get inspired by reading the accurate information I provide in my post 10 Ways To Rake In More College Scholarships.  Then take a look at Scholarship America's list of open scholarships and choose five to apply to.
And parents?  If you've got kids who weren't at my scholarship essay writing class and they aren't feeling excited and motivated to do this, you might offer to pay them $50 for every scholarship application they fill out in a quality manner.
SPECIAL ANNOUNCEMENT TODAY:  Over the past six months a massive number of parents have downloaded my free PDF  entitled "12 Ways to Save $10,000 on College."  I'm happy to announce that this PDF is now a full-color e-book — and that the section on "what grandparents can do to help kids get through college debt free" has been completely updated.  This quick read e-book is free for a limited time — and only available on the front page of JeannieBurlowski.com.
Would you like free, clear, step-by-step help getting your kids through college debt free?  
Remember that scholarships and financial aid are only just a small part of the picture when it comes to getting through college debt free.  For debt free college ideas that go far beyond the ordinary, subscribe to my weekly email newsletter using the form on this site, and then open it every single time it lands in your email inbox.  (If you're depending on financial aid to get your kid through college, be sure to read my post on how President Obama changed the financial aid application process for everyone on 9/13/15.)
What strategies have you found for helping kids to feel excited about filling out scholarship applications? Have your kids had any exciting results you'd like to share? Comment below, or LIKE Jeannie Burlowski Author on Facebook and let's talk about it there. Do you have friends who are currently parenting kids age 13-22? SHARE this post on Facebook, Twitter, and Linkedin right now.
Who is Jeannie Burlowski?
Jeannie Burlowski is a full-time consultant, author, and conference speaker. She helps parents set their kids up to graduate college debt free and move directly into careers they excel at and love. Her book LAUNCH: How to Get Your Kids Through College Debt Free and Into Jobs They Love Afterward is due out in 2016. To get Jeannie's best help, subscribe to her free weekly email newsletter using the form on this site, and open it every single time it lands in your email inbox. Follow her on Twitter @JBurlowski.
"We only got around to doing a fraction of what Jeannie tells people to do in the free help on her website, and we saved well over $50,000 on college costs. Our daughter earned a four year degree from an excellent private university at age 20, and she's now in California happily working her dream job at Disney. Get to one of Jeannie's live classes if you can. Buy a plane ticket if you have to!" — Liz and Tim Weatherhead, parents, Bloomington, MN