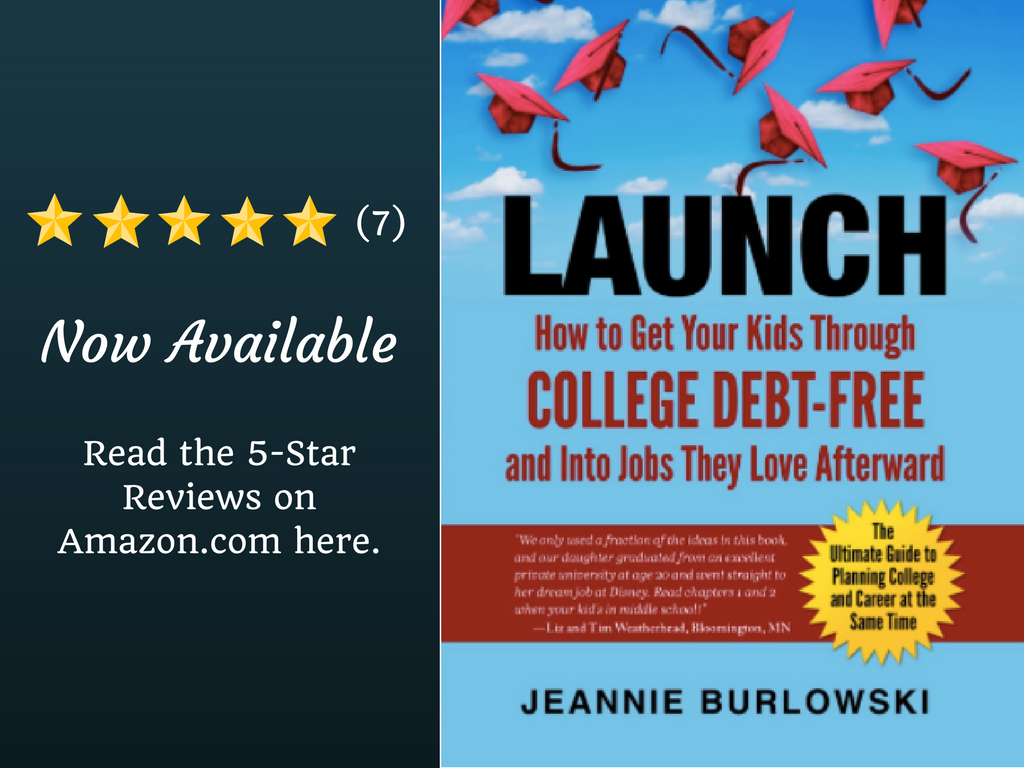 There's been an overwhelming, excited response to LAUNCH since it released on January 4th, 2017. Parent response to this book has already exceeded anything I ever thought possible. Whenever there's a lot of excitement there are also a lot of questions, so here are the top 9 questions parents are asking me — along with my answers.
1. "Our son is only in middle school. Surely we don't need to be thinking about college yet!"
Let me be blunt here. If you wait until your son's in 11th grade to start thinking about college, 75% of the best ideas for getting him through college debt-free will be gone.
I can still give you some valuable help if you're at that point right now, but to get the best possible running start, read the first two chapters of LAUNCH when your kid's in middle school. (It tells you this right on the front cover of LAUNCH.)
Please tell your friends.
2. "Our daughter is already in college. Will this book still help us?"
If your child is already in college, LAUNCH may save you thousands between now and her college graduation.
Here are four things you may not know.
First, you need to be filling out the FAFSA form every October 1st that you will have a child in college the following fall. This is true even if you make $200,000 per year and are utterly convinced you will never get any help paying for college. College aid is handed out based on a wide variety of constantly shifting and interwoven factors, so if you neglect to fill out the FAFSA form, you may be leaving thousands of dollars on the table. Now, that said, wouldn't you like to know what to do right before you fill out the FAFSA each October — to make sure you get all the free money you have coming to you? Chapter 20 of LAUNCH clearly explains this.
Second, did you know that there are safe, legal strategies you can use while filling out the FAFSA form to help your child get extra free money for college next year? Wouldn't you like to know what those strategies are well before this coming October 1st, so you can take full advantage of them? Chapter 22 of LAUNCH will explain them all to you.
Third, did you know that you can approach your daughter's college financial aid office and request additional help paying her college bills? The timing on this is important, though. Wouldn't you like to know when to make this "appeal," and what six things to say as you do so? Chapter 26 of LAUNCH explains exactly what you need to know.
Besides all this — if your daughter doesn't yet have a career goal in mind for after she graduates for college, you should race straight to chapter 13 of LAUNCH right now. This week. Why? In chapter 13 I'll help your family to use three well-respected assessments to help your daughter figure out a great-fit career goal based on her natural interests, gifts, Myers Briggs personality type, and top 5 human strengths based on Gallup research. If your daughter's current college studies aren't going to get her to an ideal-fit career after college, wouldn't you like to know that now, before you spend $50,000 more on this college education?
This is important. Tell your friends.
3. "Our daughter is in her 20's and currently not in college. She's not sure what she wants to do with her life. Will this book help with that?"
Please read the red paragraph above. Your under-employed daughter needs chapter 13 of LAUNCH 10 times more than the girl described there. Even if your daughter is adverse to the idea of attending four-year college, she will find ideas in chapter 13 of LAUNCH that can get her to a great, well-paying career she loves without four-year college.
4. "We're not saving up any money, our kid's not getting any scholarships, and we won't qualify for any federal financial aid. Does this book have additional ideas beyond that?"
Yes. Hundreds of ideas beyond just that. Trust me.
5. I already have so many books I'm supposed to be reading. I'll read those first, and then get to this one later.
Wait, wait — this isn't a book you read straight through.
LAUNCH is set up so you read only 1-2 chapters every three months or so while your kids are in middle school and high school. Chapters are carefully labeled so that you always know exactly which chapter you should be reading when. This way you never feel overwhelmed, but you always learn about all the best debt-free college and career strategies at exactly the right time to implement them.
The last thing you want is to find yourself, when your son is a junior, slapping your forehead and saying, "I'd give anything if I'd have just known about this sooner!" The best advice? Get LAUNCH when your child's just starting middle school, and read it bit by bit over five or six years.
6. "What if I buy this book, and then things change? How will you update me?"
Continue Reading »